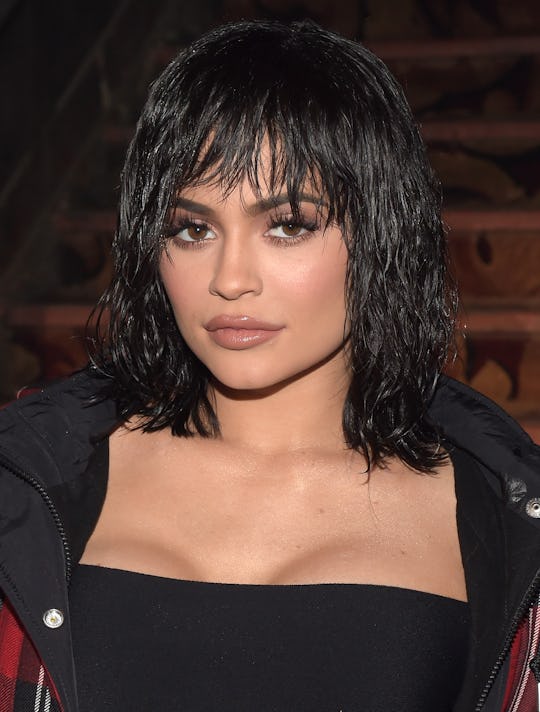 Jason Kempin/Getty Images Entertainment/Getty Images
Kylie Jenner Reportedly Attends Prom With A Fan
Like most things in high school, prom has a tendency to evolve into a big, old letdown. Getting all dolled up in itself is fun, but if your prom is in your cafeteria or if the music sucks, it can quickly turn into a night you'd rather forget. That was definitely not the case for students at Rio Americano High School in Sacramento, California. Saturday evening, prom attendees were surprised to see reality star Kylie Jenner show up at prom without any warning. That's right, folks, Kylie Jenner reportedly attended prom and it was a happy surprise for all the students there.
Allegedly, Jenner's Snapchat story earlier in the night featured her and best friend Jordyn Woods wearing gorgeous gowns in a private jet with a suspicious peeping eye emoji casually placed on Jenner's plane seat. Then, when Jenner showed up at the school's dance, social media was abuzz. Reportedly, high school junior Alberto Ochoa was Jenner's prom date for the night, although it's still unclear how he was able to secure Jenner for the evening. And as most of the details of the magical evening have only been gleamed from social media pictures and videos, you'll just have to put your imagination to good use for now.
As of yet, Jenner has yet to post anything about the prom night on her Instagram, Twitter, or Snapchat other than the photo of her on her way. But thankfully, Twitter users from Rio Americano High School have meticulously documented the night, and it's clear that it was definitely not a typical prom.
Although there has been no official news of how Jenner and Ochoa met, Twitter users claimed that he was initially turned down by a prom date request, which makes his prom date with Jenner that much more epic.
Apparently, Ochoa somehow got in touch with Jenner, or someone in Jenner's circle, and was able to invite her to be his prom date. And while most high schoolers are stressed about tests, college, and judgement from their peers, it seems that Ochoa has managed to bypass all of that in favor of a celebrity prom date. Not only that, but if social media is any indication, Jenner was totally gracious to all the students attending prom, and posed for selfies as well.
Clearly, Ochoa knows what he's doing, and isn't afraid to shoot for the stars. And if nothing else, Ochoa showing up to prom with Jenner is a reminder for us all that no matter how or why you might get rejected, nothing can stop you from showing everyone just how special you are — or, I suppose, how strong your rebound game is.