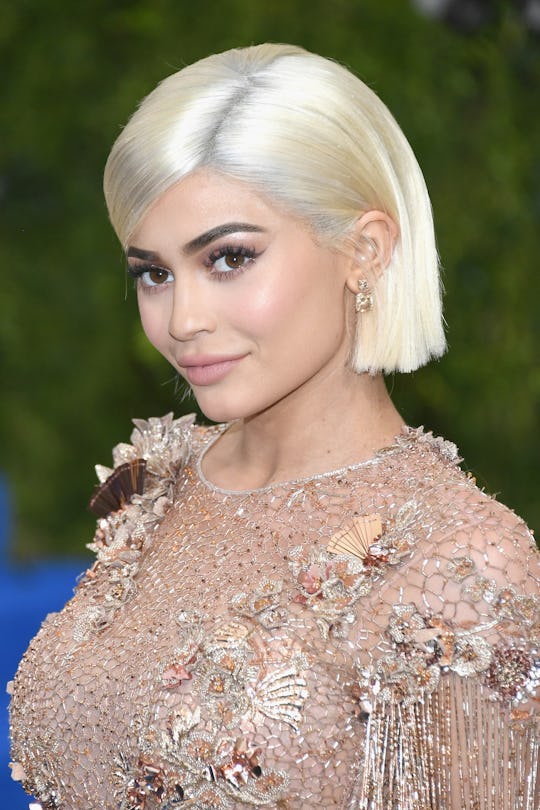 Dia Dipasupil/Getty Images Entertainment/Getty Images
Kylie Jenner Reportedly Misses Parts Of Her Old Life, & It's A Feeling Moms Know Too Well
Guys, it finally happened. And I'm still having a difficult time wrapping my head around it: Kylie Jenner is a mother! Granted, the clues were there all along. Pregnancy rumors have been rampant since September, after all. Plus, Jenner was uncharacteristically absent from social media, the family's highly-anticipated Christmas card, and most public appearances — and this drastic lifestyle change was a huge red flag that something was up. Now that her big "secret" is out, I'm sure the Lip Kit mogul is feeling a sense of relief. But apparently that's not all the Keeping Up with the Kardashians star is feeling as she navigates new motherhood. That's because Kylie Jenner reportedly misses parts of her old life, and it's a totally relatable feeling.
Jenner shocked the world when she finally broke her silence on the pregnancy reports. On Super Bowl Sunday, the reality star took to Twitter and Instagram to address what's really been going on in her life these past few months, TMZ reported. "I'm sorry for keeping you in the dark through all the assumptions," Jenner wrote. "I understand you're used to me bringing you along on all my journeys. My pregnancy was one I chose not to do in front of the world." For a woman who essentially grew up in the spotlight, I think this decision was incredibly wise one. At the same time, it also had to be difficult for Jenner to hide away for so long.
In her post, Jenner also revealed she had already given birth to a baby girl on Feb. 1. Mind = blown. An 11-minute video, titled "To Our Daughter" —which chronicled her pregnancy and delivery — soon followed on social media, Us Weekly reported.
Now that her baby girl is finally here, it seems the secrecy is coming to an end. "[Kylie] is relieved that her baby girl is here so she could share her 'secret.' She is looking forward to being out and about more," an anonymous source told People. "She wanted her pregnancy to be low-key, but she misses parts of her old life." The source continued:
For now, she wants to rest and bond with her baby. But she is also excited about eventually getting back in shape and going on dates with Travis [Scott]. She says that she is ready to return to a more normal life.
I totally feel you, Kylie. For 10 months, a pregnant woman's body is all but hijacked by a growing baby. While it's a wondrous and exciting time for sure, the journey is often riddled with physical discomfort, exhaustion, mood swings, back pain, and more. And once your precious little one has made her grand entrance, life again changes in big ways. Your body is still recovering from childbirth and suddenly, you're responsible for caring for this tiny, helpless human. Obviously, bringing a new person into the world is worth it. But as life-changing as having a baby is, it's totally normal for new parents to long for some sense of normalcy again. (Particularly if you're Kylie Jenner and have been hiding out at home from public view since September.)
It's so easy to feel like you've lost a part of your identity after becoming a parent. I've learned that even small things can make a huge difference during the baby stage. Like Kylie (reportedly,) I couldn't wait to reclaim my body after giving birth. Running was something that helped me reconnect with who I was as a person — before I gained the title of "mother." Taking a shower felt like a glorious spa day. And date night out with my husband? A vacation.
Like her older sister, Kim Kardashian, Kylie will undoubtedly face criticism for taking time to herself now that she's a mom. (I mean, Kim K and Kanye West stepped out for a date night less than a week after welcoming their daughter, Chicago, and Twitter ripped them a new one.) But what the haters fail to acknowledge is self-care is so important — and for new parents in particular.
So to Kylie — and any new, frazzled parents, really — I want to assure you that once the newborn fog lifts, a new normal will emerge. You will eventually get more sleep. Gradually, you'll have the opportunity to reconnect with your spouse and with the person you used to be. And there's absolutely no shame in reclaiming parts of yourself that have been put on the back-burner since becoming a parent.
Check out Romper's new video series, Bearing The Motherload, where disagreeing parents from different sides of an issue sit down with a mediator and talk about how to support (and not judge) each other's parenting perspectives. New episodes air Mondays on Facebook.