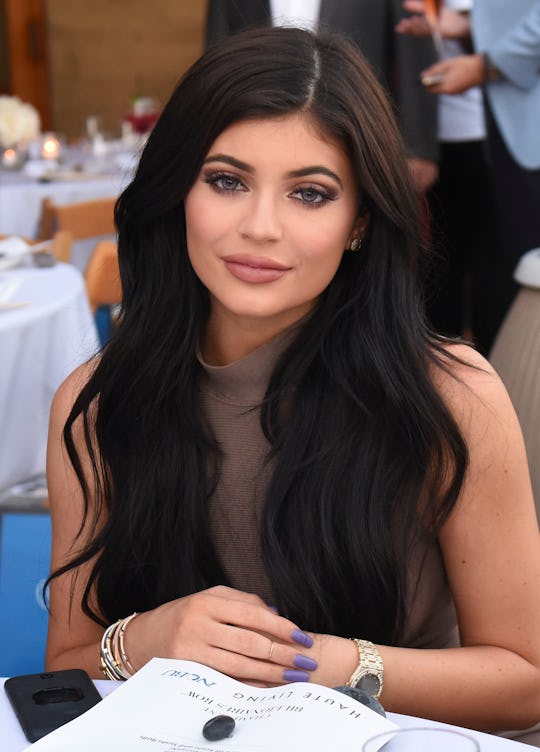 Vivien Killilea/Getty Images Entertainment/Getty Images
Here's Why Kylie Jenner Reportedly Doesn't Plan On Hiring A Nanny Right Away
Family often comes first in the Kardashian-Jenner crew and it looks like one rumored mom-to-be plans to keep it that way. According to People, Kylie Jenner won't hire a nanny right away because she would rather lean on her mother and sisters for help. Jenner would reportedly like to keep the baby around those close to her and worries about getting help from someone new, as a source told the publication. Jenner's rumored due date is around the corner — making her a first-time mom, should she actually be pregnant — so it's understandable that she would want to be comfortable with whoever is around her baby-to-be.
Jenner's rumored baby is due in early February, according to Hollywood Life, which means her due date could be just weeks away. When it comes to Jenner's child care situation, a source recently told People:
She hasn't hired a nanny. At first, she only wants [mom Kris Jenner] and her sisters to help with the baby. She is worried about new people around the baby.
So, it looks like there will definitely be some sleepless nights in the Jenner household soon. And, a source also told People that her home is almost totally prepped for a baby. Jenner has reportedly been putting the finishing touches on a nursery and she is rumored to be expecting a baby girl, according to TMZ. Also, the same source told People that Jenner hired a company to completely baby-proof the house.
All that baby-proofing, however, may not be needed for long, as Jenner is reportedly building a new home, according to The Sun. If that's the case, she may have to go through the safety process all over again. Earlier this week, Jenner was allegedly spotted at a construction site, in the company of her mother, Kris Jenner, and her BFF Jordyn Woods, according to TMZ.
Jenner's sister, Kim Kardashian-West, has three nannies for her children, as OK! Magazine reported. But nannies aren't for everyone; according to Parents, new parents may have a lot more worries — including the issue of getting help with a new baby — than those who have been around the block in the kid department. And, who can blame a new mom? It's entirely new territory and you have a brand new human life in your hands. With that said, a great deal of trust and resources are needed if parents do decide to hire someone to help care for their child.
Being a celebrity, Jenner tends to keep her circle small and she has kept herself out of the spotlight in recent months, which is part of the reason pregnancy rumors first started, according to People. On her reality show Life of Kylie, Jenner often talked about how she found being so famous awkward and sometimes wished she wasn't so recognizable, as reported by Perez Hilton. And, with the possibility of pregnancy now thrown into the mix, it's no wonder that Jenner doesn't want to be hounded by paparazzi, or perhaps add a new stranger into her life. A source explained to People:
Kylie wants to disappear and be out of the spotlight and focus on her health and happiness. Kylie isn't going to publicly address her pregnancy until she gives birth. She's not doing any public appearances.
Whether 20-year-old Jenner decides to hire a nanny, lean on her family, get help from the alleged baby's father, Travis Scott, or go it alone, it's totally up to her and whatever she chooses will ultimately be the best way to go.
Check out Romper's new video series, Bearing The Motherload, where disagreeing parents from different sides of an issue sit down with a mediator and talk about how to support (and not judge) each other's parenting perspectives. New episodes air Mondays on Facebook.