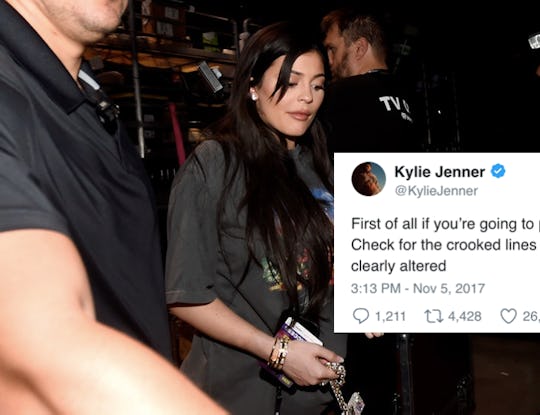 David Becker/Getty Images Entertainment/Getty Images/ Kylie Jenner/ Twitter
Kylie Jenner Has A Message About These Paparazzi Photos That Claim To Show Her "Bump"
One reality television star and beauty mogul is not having it with all the pregnancy rumors swirling around her. And while she has yet to either confirm or deny any of those rumors specifically, Kylie Jenner has responded to paparazzi photos that claim to show her "bump." Taking to Twitter Sunday afternoon, Jenner showed several paparazzi photos that were taken of her that she alleges were photoshopped. As E! News reported, the photos were posted by the British tabloid, The Daily Mail.
In an article published on Sunday, The Daily Mail showed several photos of Jenner wearing black sweatpants and a hoodie, which the publication claims to be evidence of her pregnancy. In captioning one of the photos, The Daily Mail wrote, "It's baby Jenner! Kylie debuts her bump for the first time as she hides pregnant figure under baggy clothes on Sunday morning." And once Jenner herself caught wind of the story, she was quick to nip it it the bud, accusing the website of altering the photographs to make her look larger.
Jenner even took the opportunity to showcase her own photoshop smarts, telling all the "paps" and "blogs" to "check for the crooked lines in the background" which are a hallmark of overly edited photographs. Romper has reached out to The Daily Mail for comment on these claims and is awaiting a response.
What's more, Jenner shared the below photo of herself on Sunday as well via Snapchat, which seemingly contradicts the images that were shared by The Daily Mail.
Of course, fans of Jenner have been awaiting confirmation on these pregnancy rumors for nearly a month and a half after People first reported the news on Sept. 22. And since then, the 20-year-old has stealthily avoided commenting on the rumors, as has her famous family.
And it all makes sense when you think about it. It's now been reported that Jenner, along with her sisters Khloe and Kim Kardashian are all expecting babies, according to People. And while Kim is the only sister to confirm her happy news (although it has yet to be confirmed if she is, in fact, using a surrogate), both Khloe and Jenner's reported pregnancies have been the talk of the town.
And this isn't the first time Jenner's choice of clothing has been a major talking point in the media's coverage of her reported pregnancy. In October, Jenner shared the above photo to her Instagram, with the simple caption, "Sasha's shirt," followed by the blue heart emoji. Now, while anyone else posting this sort of photo would simply receive a few likes and comments, Jenner's photo made headlines. Literally.
Fans and the media were both convinced that the blue, baggy shirt meant Jenner was confirming the pregnancy rumors, and that she was expecting a boy, as Metro reported. But, that was nearly a month ago, and Jenner has still yet to confirm or deny her pregnancy. In fact, her mom, Kris Jenner, was recently on The Ellen DeGeneres Show where she was also questioned on the pregnancy rumors surrounding three of her daughters, and she remained ever so coy.
After confirming Kim and husband Kanye West's happy news, Kris was presented with the rumors about two of her other daughters being pregnant, with DeGeneres saying "and probably Khloe. Probably Khloe. And Kylie... probably," as BuzzFeed reported. But, all momager Kris did was nod, and mumble something incoherent. But, as many have pointed out, if those rumors were completely untrue and unfounded, wouldn't she just deny them? What does she, or her daughters, have to gain from dragging this out?
Well, publicity, for one. The family's hit show, Keeping Up with the Kardashians is currently airing Season 14, and many are speculating that any response to these pregnancy rumors will only happen on the show. And so, until then, keeping up with Jenner's pregnancy will remain as complicated as ever.