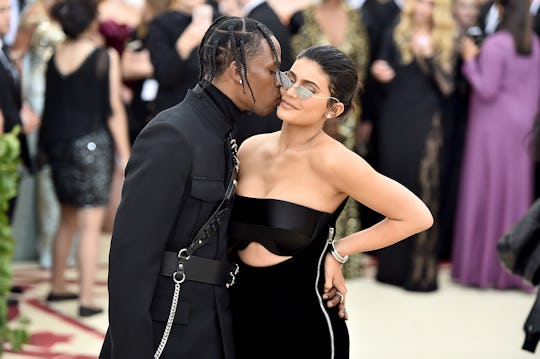 Theo Wargo/Getty Images Entertainment/Getty Images
Kylie Cropped Stormi Out Of Her Latest Instagram Photo, & Fans Are Worried
It's hard to believe that there was a time when Kylie Jenner wasn't constantly posting to her Instagram account. But at the end of last year, Jenner did just that during her pregnancy with her daughter, Stormi Webster. Jenner's return to social media these past few months has been much welcomed by her fans, especially since she has been regularly posting photos of her daughter. But on Sunday, Kylie Jenner revealed some pretty shocking info in a new Instagram of Stormi, possibly hinting at another break from social media.
Jenner's Instagram post on Sunday was like any other photo she might have posted in the past few months — a selfie with her four-month-old daughter, Stormi. In the photo, Jenner looks slightly away from the camera, wearing a natural face of minimal makeup while holding her daughter. But Jenner didn't show her daughter's full face in the photo; she cropped out most of it. The caption of the photo was just as sweet as the photo itself. "I spy with my little eye..." Jenner wrote.
The recent snap is super adorable, yet some commenters had a problem with Jenner cutting Stormi out from the photo in favor of her own face. "She cut her own baby wtf," one commenter wrote. "Did you really just crop your own baby out of the picture," another commenter added.
But Jenner revealed in a comment that the crop was intentional, perhaps releasing some shocking information that fans might not have known before. "Yeah, I cut my baby out," Jenner responded to one commenter. "I'm not sharing photos of my baby right now."
If people take a closer look at Jenner's Instagram, they'll see that she is telling the truth. Jenner has not posted a photo of Stormi to her Instagram account since April 19. Fans suspected something was wrong last week when they found out that Jenner had deleted every photo showing Stormi's face from her Instagram account, according to Life & Style.
Jenner's comment on Instagram on Sunday is pretty reassuring — it tells fans that there is nothing for them to worry about, she simply isn't comfortable sharing pictures of Stormi right now. Fans have to respect the wishes of the new mom, especially since Jenner is making some super important decisions during this first year of her daughter's life. That includes the decision not to show her daughter's face on social media.
She isn't hypocritical for doing this either — Jenner has every right to change her mind. Just because she chose to let fans see Stormi's face for the first three months of her life doesn't mean she has to do it for the rest of her life.
But fans are used to Jenner not sharing all of her life on social media. As previously stated, last fall, Jenner stepped away from regularly posting on her Instagram account due to pregnancy rumors at the time, according to Harper's Bazaar. Those rumors did eventually turn out to be true. In February, after giving birth to Stormi, Jenner returned to Instagram where she apologized for her absence. "My pregnancy was one I chose not to do in front of the world," Jenner wrote. "I knew for myself I needed to prepare for this role of a lifetime in the most positive, stress free, and healthy way that I knew how."
But Jenner did make up for her absence by releasing a vlog that documented her pregnancy with Stormi. The vlog showed everything that fans didn't get to see on Instagram — and Jenner's return to Instagram following her daughter's birth seemed to promise that she was back for good.
While Jenner has been back to posting on Instagram since February, she has every right as a new mother — and just as a person who doesn't owe fans her life — to dictate what she wants to show her fans. As of right now, she doesn't want to show Stormi's face, but that doesn't mean she will keep fans in the dark forever.