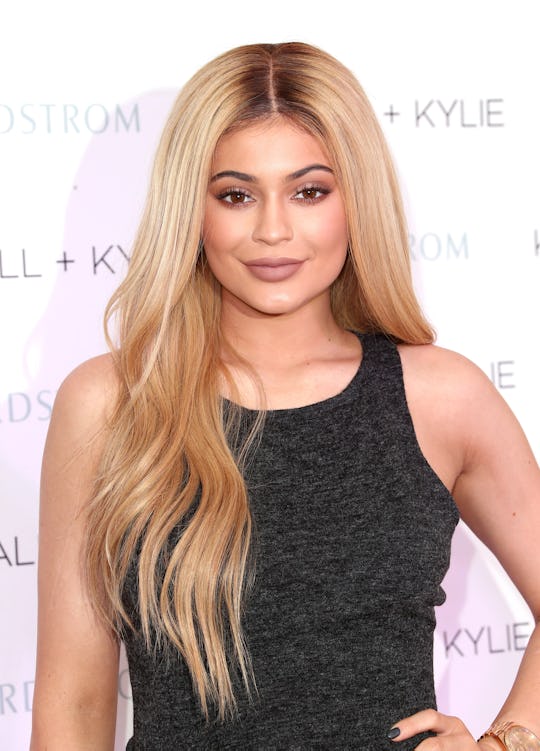 Frederick M. Brown/Getty Images Entertainment/Getty Images
Kylie Jenner Thinks Stormi Is Her "Little Twin" & Yup, She's Totally Right — PHOTOS
Kylie Jenner is set to turn 21 on Friday, a big milestone for any person famous or not. Jenner has shared a ton of fun and sweet pics on social media in anticipation of the special date, including snaps of her 6-month-old daughter, Stormi Webster. And considering Jenner rarely shares photos of Stormi these days, it's no surprise fans are having a field day with the posts. People are enjoying the moment so much, in fact, that some supporters have created new side-by-side photos of Jenner and little Stormi. The best part? Jenner caught wind of the photos, and she's now convinced Stormi is her mini-me.
Back in June, Jenner informed fans Stormi wouldn't appear on social media for the foreseeable future. "Yeah I cut my baby out," Jenner told a fan who asked why Stormi was "cut out" from a photo, according to E! Online. "I'm not sharing photos of my girl right now."
Jenner's stance on Stormi's privacy changed, however, on the eve of her birthday milestone. "Bringing in my birthday tonight with my most special gift," Jenner captioned a stunning shot of herself holding a shirtless Stormi. "What was life before you, Stormi. I love you my little angel." The pic is breathtaking, to put it mildly.
But wait — that's not all. Jenner uploaded another shot of herself with Stormi above the sweet caption, "My heart," according to Instagram. Aww.
Shortly after the precious posts were shared, a few fans created side-by-side photos using throwback pics of Jenner with her momma, Kris Jenner. The throwbacks were a good choice because Jenner looks *adorable* in them — from her leopard print ensemble to her darling expression, they're too perfect.
"I love these pics you guys are making ♥️ my baby is my little twin!" Jenner captioned the fan creations, posts she has since deleted, according to ET Online. Luckily for curious fans the photos were saved to Jenner's Instagram stories as well.
Cuteness overload, right? It's touching to see the many similarities between baby Jenner and infant Stormi — the two are definitely twins.
But it's interesting to note Jenner also sees some of Stormi's dad, Travis Scott, in her baby. "Stormi reminds me, she's my twin. Now she's like, looking a lot more like her dad," Jenner said, according to E! Online. "The one thing I was insecure about, she has—she has the most perfect lips in the whole entire world. She didn't get those from me."
Aww. It's nice to hear Stormi is a combo of Jenner and Scott's best qualities.
As for how Jenner plans to celebrate her birthday with Stormi, that is TBD. I assume Jenner will celebrate her big day with a lavish party, and then with a small bash a la her close family and friends. Jenner's life has changed dramatically since welcoming Stormi into her world, after all — she's not as into the party scene as she used to be. Jenner said about her new outlook on life, according to HuffPost:
I think more about the future because of her. Every time I leave and I'm stressed about leaving her, I'm like, 'I'm doing it for you'. Everyone says you change completely when you become a mom, but I really feel the same, just better. So I don't know what really has completely changed my world, besides her, of course ... But I feel like it's only gotten better. You're less selfish — and I actually enjoy changing diapers. It's really satisfying. To make her clean again. And I don't know, the whole thing is really… it's like such an amazing experience.
Happy birthday, Jenner. Although your life is different now, it's clear you have even more to celebrate this year, like your little twin Stormi.