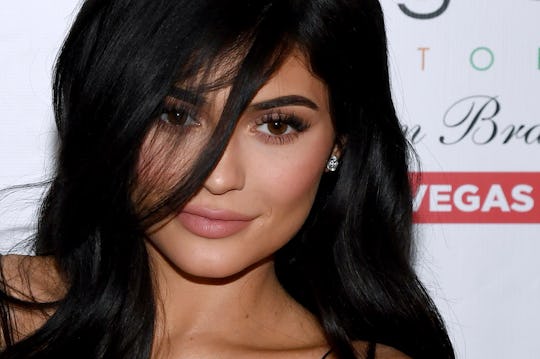 Ethan Miller/Getty Images Entertainment/Getty Images
Kylie Jenner Shares A Video Of Stormi & Travis Scott At Easter, & It's So, So Cute
Listen, I'm sure you put out a great spread for Easter lunch and nailed the egg hunt. But no matter how well you decorated your eggs and coordinated your pastel table settings, your Easter party was not as good as the KarJenners. On Sunday, the sisters Snapchatted their family gathering and in the midst of the Easter extravaganza, Kylie Jenner shared a video of Stormi and Travis Scott and it was super cute. Almost as cute as the real bunnies and sheep that were at the party. Yes, there were real farm animals in the backyard, because of course there were. I told you your party wasn't as fun as the KarJenner's family gathering.
Seriously, this party was almost aggressive in its Easter-ness. In Kylie's video, she shared shots of a perfectly decorated tables, including one for the kids, tables of spring-themed sweets, like cupcakes with bunny ears and cakes topped with jelly beans, and a lawn strewn with eggs for the kids to snatch up.
There was a slide set up for the kids, and it looks like Penelope (Kourtney's daughter) and North West were tearing it up. There was a mini petting zoo with the aforementioned sheep, baby chicks, and bunnies, along with Easter baskets stacked with party favors. And a 10 foot tall bunny shaped flower arrangement, courtesy of Jeff Leatham, made with pink and white flowers. Because of course there was.
But the real star of the Snapchat video was the sweetest moment between baby Stormi and Travis Scott. In the clip, he's holding her and she's staring up at him as he leans in for a kiss. It's adorable.
Check This Baby Out
This Is A Bunny Made Of Flowers
This party was legit. On Kim's Snapchat, you get an even fuller picture of how major it was. Like, there were rainbow grilled cheeses shaped like eggs. And North actually got to hold the bunnies and the baby chicks. What else do you want from an Easter shindig? It sure beats whatever you had for the holiday. Sorry, not sorry. Hey, Kylie or Kim or Kris? How do I get an invite to one of these? Because I love grilled cheese sandwiches, too.
Look At This Thing
North & Her New BFF
It Was A Straight Up Petting Zoo
No Detail Was Spared
And The Kid's Table
These Are Some Easter Baskets
So Cute
YUM
Kylie & Crew
Really, This Party Was The Jam
Despite all of the rumors surrounding Kylie and Travis (that he's cheating, that they fight, etc.), they look as happy as can be at this backyard soiree. They've been spotted out a lot together since Stormi's birth, which must be nice after going into stealth mode for the duration of her pregnancy. In early March, they were in Miami on a friend's boat, without the baby in tow. And this weekend, they attended Jordan Woods' mom's birthday dinner together. So they've definitely been partying in style for the whole holiday weekend, as they should be.
Kylie must get her party-throwing skills from her mother, who famously threw her kids the most elaborate birthday parties all the time, as fans who watch Keeping Up With The Kardashians know all too well. Like, most of the family's life is throwing together perfectly themed parties and get-togethers all the time. They're all good at it, but Kylie's the one who seems to have the knack for it. If the whole lip kit thing goes south, she definitely has a future in event planning. I can't wait for Stormi's first birthday party.
Check out Romper's new video series, Romper's Doula Diaries:
Watch full episodes of Romper's Doula Diaries on Facebook Watch.