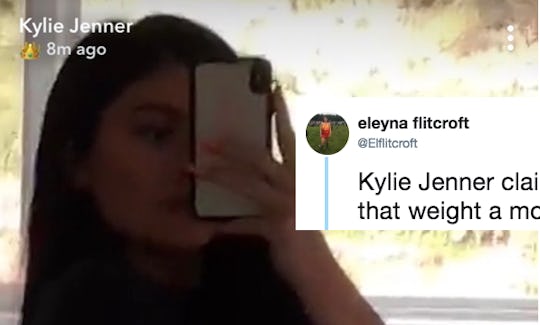 Kylie Jenner/ Snapchat
People Are Dragging Kylie Jenner's "1 Month" Postpartum Body Snapchat & It's So, So Mean
Ah, Kylie Jenner. The 20-year-old beauty mogul and reality star sure knows how to keep fans on their toes and her latest move is no exception. After coyly hiding her pregnancy for months, Kylie Jenner showed off her postpartum body on Snapchat on Thursday afternoon, and it's obvious that she's ready to interact more with fans after giving birth last month. Unfortunately, fans aren't all that thrilled at what she's posting. Because, ya know, Kylie posting a picture of her body might as well be starting a riot, based off of some people's reactions.
On Thursday, Kylie took to Snapchat to show fans how her body has changed since giving birth. With a simple caption of "1 monthhhhh," Kylie's Snapchat video was clearly showing off her flat stomach and ab muscles. And honestly, good for her! As any mom knows, getting back into the swing of things after giving birth isn't easy and can be a process. But no matter what Kylie's body looks like now, it's clear that she's proud of it and it makes her feel like her best self — and that's what matters.
But, of course, almost as soon as she posted her video, people took to Twitter to blast her for it. Sure, getting flack is just part of being a celebrity, but do people have to be so mean?
It's clear from her Snapchat post that Kylie was just proud of her postpartum body and was happy to share it with her fans, yet so many people are trying to attack her for how she may or may not have attained it. Of course, all postpartum bodies are different and celebrities, like Kylie, have resources — personal trainer, dietitians, and time — that not all moms do. Although she didn't share what she's been up to over the last month when it comes to eating and fitness, she shouldn't have to. She should feel comfortable to share what she wants without being hounded about how she got there.
As a source revealed to People on Feb. 27, Kylie is now taking all the help she can get in being a new mom. "With the support and abilities she has to hire nannies and assistants, she's been a really, really great mom," the source said. But, because Kylie is Kylie, and people love to bring down celebrities, people just couldn't let her be.
Now, in case you're just catching up with all of this baby news, allow me to fill you in. News of Kylie's pregnancy first broke in September of 2017, and it remained unconfirmed until after she gave birth on Feb. 1. Yeah, it wasn't until Feb. 4 (Super Bowl Sunday, no less) that Kylie finally announced that she was pregnant and had already given birth to a baby girl, whom she named Stormi Webster.
Since then, everything Kylie has done has been hyper-analyzed by fans and haters alike, and her latest Snapchat video is no exception.
Fortunately though, instead of making wild assumptions, some people took time to celebrate Kylie's postpartum body.
Again, it's important to recognize that every body is different and Kylie obviously is privileged enough to have people helping her take care of her newborn, Stormi, who she shares with her boyfriend Travis Scott. Every postpartum journey is unique, like Kylie's.
Really, though, most fans are just excited to see Kylie back on social media. After all, she was so private while she was pregnant with Stormi, something she addressed in her first Instagram addressing everything. In an all-text post, Kylie shared:
I knew for myself I needed to prepare for this role of a lifetime in the most positive, stress free, and healthy way I knew how. There was no gotcha moment, no big paid reveal I had planned. I knew my baby would feel every stress and every emotion so I chose to do it this way for my little life and our happiness.
Now that Stormi is here, Kylie is back in full force on social media. And despite negative responses to her postpartum body video, it seems as though she's happy as can be.
Check out Romper's new video series, Bearing The Motherload, where disagreeing parents from different sides of an issue sit down with a mediator and talk about how to support (and not judge) each other's parenting perspectives. New episodes air Mondays on Facebook.