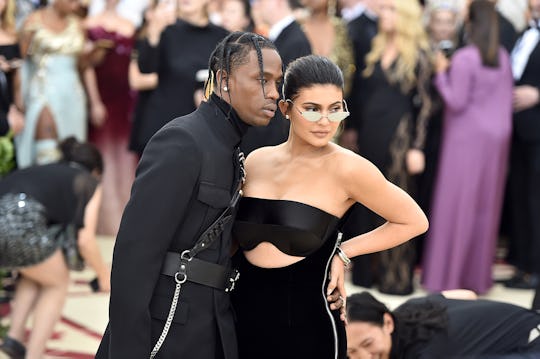 Theo Wargo/Getty Images Entertainment/Getty Images
Kylie Jenner Subtly Shut Down Rumors About Stormi's Paternity With This Instagram
It seems as if the great paternity debate has been settled once and for all; Kylie Jenner has spoken. Even before Stormi was born in February, rumors about the paternity of her first child were rampant. Was the Lip Kit mogul serving as a gestational carrier for her sister, Kim Kardashian? Was Jenner's ex, Tyga, really the father? Most recently, a conspiracy theory pegging the reality star's former bodyguard, Tim Chung, as the baby daddy, took over the internet. However, Kylie Jenner subtly shut down rumors about Stormi's paternity with this Instagram. And it's classy AF.
On Tuesday, Jenner took to Instagram to share a recent image of herself and boyfriend Travis Scott, People reported. The photo is from the 2018 Met Gala on May 7, during which they walked the red carpet together as a couple for the first time. A short and sweet caption of the shot was all it took to quell the rumors. "Stormi's Parents," the Keeping Up with the Kardashians star wrote, along with a black heart emoji for good measure. A fair amount of Jenner's Instagram followers caught onto her subtlety, and offered their support. "That's right, Kylie. Tell em what's up," one person commented. "We all know that @kyliejenner!" another person wrote. Still, others can't seem to let it go. "Where is he? Is he hiding behind travis??" one Instagram user comment. "No honey he isn't," another wrote. "Is he really though?" yet another person questioned.
On Saturday, Tim Chung finally broke his silence on the rumors via Instagram, Us Weekly reported. "I am a very private person and would normally never answer to gossip and stories that are so ridiculous that they are laughable," Chung wrote. "Out of deep respect for Kylie, Travis, their daughter together and their families, I would like to set the record straight that my interactions with Kylie and her family have been limited in strictly a professional capacity only." To really drive the point home, he added:
There is no story here and I ask that the media no longer include me in any narrative that is incredibly disrespectful to their family.
Editor's Note: The Instagram post has since been deleted.
Despite this straightforward declaration of, "Seriously, guys, I am definitely not the father of Stormi Webster," Chung's followers still made light of the situation. "I can't blame Kylie, i want a baby with you too!!" one person commented. "STOP LYING! WE ALL HAVE EYES AND OUR EYES CANT LIE," another follower wrote. "That's your baby," another person pointedly declared. Geez. No wonder Jenner finally decided address this nonsense; these people are relentless!
For the record, this whole ridiculous notion started at the beginning of May when photos showing Stormi and Chung side by side starting gaining momentum on Twitter, Elle reported. If I'm being completely honest, I guess I can maybe see a slight resemblance. But to me, young infants all sort of have a generic look about them; so Stormi probably resembles a lot of different people for the time being.
If I were Kylie Jenner, I would be endlessly annoyed by the constant stream of paternity conspiracy theories. Any other celebrity would be able to simply make a pregnancy/birth announcement, and the world would take the baby's paternity at face value. What is it about the Kar-Jenners that prompts such scrutiny?
Unless Jenner or Scott tell us otherwise, it's probably best to accept that they're the biological parents of Stormi Webster. That's my opinion, and I'm sticking to it. Unfortunately, I think even if Travis Scott did take a DNA test on KUWTK — proving to the world that he is, in fact, the father — people would still come up with excuses that peg Stormi's paternity on Tyga or Chung. So good effort, Kylie. But as ridiculous as the situation is, I think this one's a battle you're just never going to win.