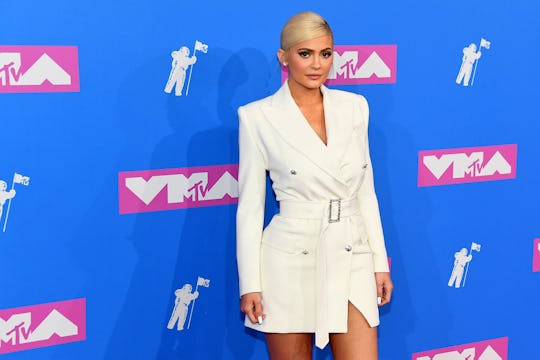 Nicholas Hunt/Getty Images Entertainment/Getty Images
Kylie Jenner Trying To Teach Daughter Stormi New Words Is Too Relatable — VIDEO
Kylie Jenner's daughter, Stormi Webster, with boyfriend Travis Scott, is growing up right in front of fans' eyes. After being born in February, it seems like the little girl is getting bigger with every single photo and video that Jenner shares of her daughter. And she's gotten to the point where she's trying to talk. In the sweetest video posted to Instagram, like, ever, it was revealed that Kylie Jenner is trying to teach Stormi new words — but it's clear that Stormi is catching on to some words faster than others.
Stormi is already nine months old, which means she's celebrating some serious milestones — like saying her first words. And this is exactly what Jenner caught on camera. In the new video, posted to Jenner's Instagram account on Sunday afternoon, Stormi can be seen sitting on a bed wearing the cutest matching gray sweatsuit and adorable sneakers with her hair in a bun on the top of her head. Instead of playing with blocks or stuffed animals, Stormi opted for playing with her mom's makeup palettes from her brand, Kylie Cosmetics.
"Kylie Cosmetics," Jenner says to her daughter in the video, attempting to teach her two words that will be very important in Stormi's life.
But instead of repeating her mom, Stormi can be heard talking in hr own form of baby babble — because she does what she wants. And as much as Stormi tries to copy her mom, it's clear that she does know one word — "Dada."
Everything about this video — from Stormi's serious stare, to her little giggle, to her attempts to repeat her mom — is so stinkin' adorable. It just goes to show that Stormi will be talking a lot in no time.
Not only does it show that Stormi will be talking up a storm (quite literally) within a matter of weeks, but that she's also getting prepared to defy her mother.
By Stormi saying "Dada" right after Jenner tried to get her to say her own name, then Jenner has many years to look forward to her daughter disagreeing with her and doing her own thing. Stormi is already displaying signs of being a teenager — which means her teenage years are going to be super exciting for Jenner.
It makes sense that Stormi would be learning her first words by now. As previously stated, Stormi is just nine months old, after being born on Feb 1. Babies start showing signs of saying their first words around six to seven months of age, according to Parents — and it is during this time that babies will begin to copy their parent's speech patterns. Right around their first birthday, babies truly begin to speak their first words, according to Parents. Given that Stormi has two more months until she turns one, it's quite possible that she could be saying "Kylie Cosmetics" in no time.
There's a reason why Stormi might want to learn how to say "Kylie Cosmetics" ASAP because she could be running the company for the rest of her life. In an interview with Forbes in July, it was revealed that Jenner is running a multi-million dollar company with Kylie Cosmetics — and the hype isn't dying down any time soon. Because of this, Jenner said that she hopes that her daughter might inherit her work ethic and love of Kylie Cosmetics one day, too.
"Maybe one day [I'll] pass this on to Stormi, if she's into it," Jenner told Forbes.
With a multi-million dollar empire within her reach, Stormi will probably get sick of saying Kylie Cosmetics by the time she turns 10. But in the mean time, she'll stick to saying words like "Dada."