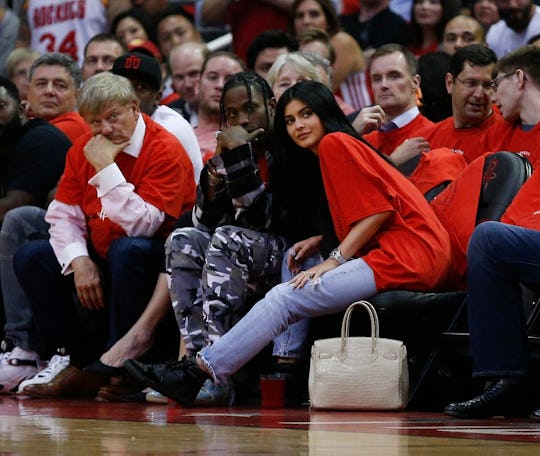 Bob Levey/Getty Images Sport/Getty Images
Kylie Jenner's Birthday Cake For Travis Scott, Featuring Baby Stormi, Is #FamilyGoals — PHOTO
Kylie Jenner and Travis Scott's relationship is something that the couple tends to keep to themselves, and you really can't blame them for it. Although Jenner's life has been incredibly public on social media, Scott is a little different. And following her pregnancy with Scott's baby, Jenner has publicly chosen to keep that aspect of her life private, refraining from posting about it on social media. But there are some things worth posting about — like his big birthday celebration, which Jenner documented on her Instagram Story. Sure, his birthday party looked great but Jenner's birthday cake for Scott was the highlight of the whole entire party (at least, in my opinion).
If you ever wanted any indication of how much Scott means to Jenner, then his birthday party makes it clear that the couple is stronger than ever — not that it should come as a surprise. Scott's 26th birthday party, thrown by Jenner, confirmed how much she loves him. I mean, she rented out an entire Six Flags theme park for him and his friends, according to Us Weekly, just because he had never been before.
In the videos and photos posted to Jenner's Instagram Story, you can tell just how much fun Scott and friends had, celebrating his birthday (which is really falls on Monday, according to Us Weekly).
Sure, having a theme park full of roller coasters and fried food does sound amazing. But there was an even better part about Scott's birthday party — his birthday cake, given to him by Jenner.
The roller coaster shaped cake not only fit into the party's theme, but depicted the cutest scene on it. Riding on the roller coaster-shaped cake was Scott (enjoying the ride with his hands up), Jenner, and their daughter, Stormi Webster, along for the ride — all made out of cake. I don't think you'll see a cuter or more appropriate cake at any other birthday party, because this one really tops them all. Just look at the details — from Scott's tattoos on his arms, to Stormi's pacifier, which she has been seen using in Jenner's Instagram Story before. You could not get a more accurate cake than this one.
The cake was so good that Kanye West, Scott's mentor and friend, even tweeted a photo of it on Saturday evening. Talk about celebrating your birthday right with the people you love.
This birthday marks a major milestone for Jenner and Scott — it means that it's been a little more than a full year of them dating. The couple first began seeing each other last April at the music festival, Coachella, according to Cosmopolitan, where they were caught flirting. A few weeks later, when Jenner showed up to Scott's birthday party, it pretty much confirmed that they were together. Jenner's video to their daughter, which was posted to her YouTube channel on the day she announced Stormi's birth, shows Jenner at Scott's birthday party last year, canoodling with him and looking on as he blew out the candles.
But a lot has changed since then. A few months after Scott's 25th birthday party, Jenner became pregnant, and chose to keep the whole pregnancy something for her, Scott, their family, and friends to be a part of. In the beginning of February, Scott and Jenner welcomed their daughter into the world and both of them could not have been more overjoyed to do so. This has been made obvious by the fact that Jenner and Scott look so happy every time cameras capture them with their daughter.
So, 25 was a huge year for Scott, but given the way that this new year has started out for him (with this amazing birthday party), 26 is about to be even better.
Check out Romper's new video series, Bearing The Motherload, where disagreeing parents from different sides of an issue sit down with a mediator and talk about how to support (and not judge) each other's parenting perspectives. New episodes air Mondays on Facebook.