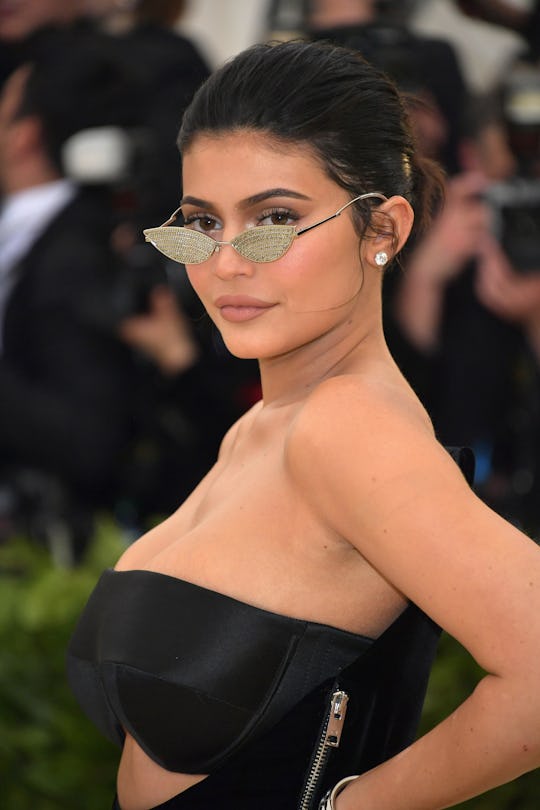 Neilson Barnard/Getty Images Entertainment/Getty Images
Kylie Jenner's Bodyguard Tim Chung Breaks His Silence On Stormi's Paternity
Ever since reports started swirling back in September concerning Kylie Jenner's pregnancy — which is only confirmed after she gave birth to her baby girl, Stormi, in February — conspiracy theories started flying left and right. Some fans theorized that Jenner was actually Kim Kardashian's surrogate. Others wondered if her ex, Tyga, was the real father. (Instead of her current boyfriend, Travis Scott.) However, I think the latest development takes the cake for the most outlandish conspiracy theory yet: That the Lip Kit mogul's former bodyguard is the father of Jenner's baby. Well brace yourselves, because today, Kylie Jenner's bodyguard Tim Chung finally broke his silence on rumors claiming he's Stormi's father.
On Saturday, Chung released a statement reluctantly addressing the gossip, Us Weekly reported. Chung took to Instagram with a post captioned, "My first and last comment." On the Instagram image itself, he wrote, "I am a very private person and would normally never answer to gossip and stories that are so ridiculous that they are laughable." He continued,, "Out of deep respect for Kylie, Travis, their daughter together and their families, I would like to set the record straight that my interactions with Kylie and her family have been limited in strictly a professional capacity only." Welp, there we have it, folks. Tim Chung is decidedly not Stormi's father. Chung also added:
There is no story here and I ask that the media no longer include me in any narrative that is incredibly disrespectful to their family.
Editor's Note: The Instagram post has since been deleted.
Last week, side-by-side photos of baby Stormi and Chung started circulating on Twitter, raising (yet again) the true paternity of Stormi Webster, Elle reported. And to be fair, I can kinda, sorta see a resemblance. But then again, young infants are often balls of chub whose facial features look generically "baby." So I'm sure Stormi might resemble a lot of different people at this point. Take a look for yourself.
Still, it's difficult to argue that the conspiracy theory wasn't highly entertaining.
Of course, this isn't the first time fans have suspected another man — besides Travis Scott — was the father of Kylie Jenner's baby. ET Online reported that Jenner's ex, Tyga, shut down paternity rumors back in March, when Stormi was nearly 2 months old. The hip-hop artist and Jenner had previously split in April, 2017. "I've never said anything about someone else's child or family insinuating my involvement; and will never do so," Tyga tweeted. "Please, Stop spreading false stories and attacking people's families. I have nothing to do with any of that. People should be able to live in peace."
I mean, the maternity of Jenner's baby was even called into question at one point. InStyle reported that one popular theory during the early stages of Jenner's pregnancy reports was that Jenner was actually carrying Kim Kardashian and Kanye West's third child.
So yeah. Can we please just put this whole Kylie-Jenner's-Baby's-father-is-anyone-but-Travis-Scott nonsense? Because I think it's safe to say Jenner has clearly indicated that Scott is Stormi's biological father. I mean, the Keeping Up with the Kardashians star posted an 11-minute video chronicling her pregnancy, according to E! Online, for Pete's sake And Scott was right there with her every step of the way. Does she need to walk around with a sticker on her forehead that reads, "YES TRAVIS IS MY BABY DADDY, NOW STFU"? (No. No, she doesn't.)
Once and for all, let's get a few things straight: 1) Kylie Jenner gave birth to her own child, and was not a surrogate for Kim K. 2) Tyga is not Stormi's father. 3) Jenner's bodyguard, Tim Chung, is not Stormi's father. And finally, unless proven otherwise by Jenner or Scott, it's probably best to accept that Travis Scott and Kylie Jenner are the actual parents of Stormi. Because as amusing as these wild conspiracy theories may be to the general public, there are actual people and families at stake, here.