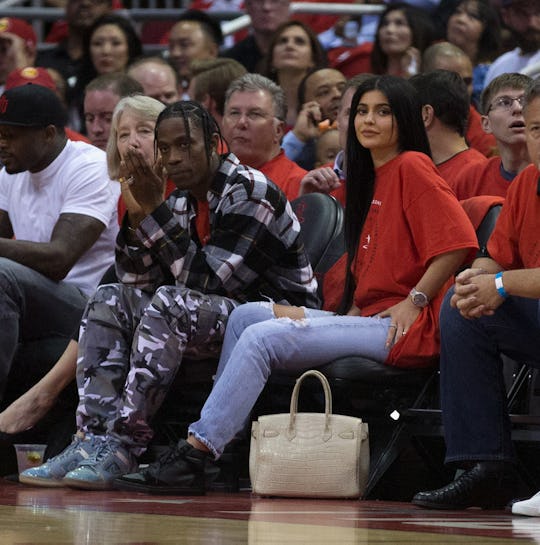 Bob Levey/Getty Images Sport/Getty Images
Kylie Jenner's "Clues" About Travis Scott Show Their Relationship Is The Real Deal
Kylie Jenner's rumored pregnancy has been front and center in the entertainment news world for months now, but that isn't the only aspect of the star's life that has fans asking questions. The details of her relationship are also subject to speculation. And Kylie Jenner's "clues" about Travis Scott have many believing that the two are seriously committed and possibly on the their way to marriage.
Jenner and Scott have been an item since April 2017, when they were first spotted together at Coachella, though a source told People at the time that they were "nothing serious." Later that month, they were seen together sitting courtside at an NBA playoff game, and went on to spend a weekend together in Boston, according to Cosmopolitan. Jenner then confirmed the relationship with a post of the two of them to her Instagram page.
Their relationship began shortly after Jenner split up with ex-boyfriend and rapper Tyga. From there, Jenner and Scott seemed to get hot and heavy rather quickly, with the relationship culminating with a rumored baby on the way. While Jenner has yet to confirm the pregnancy or provide much information on the status of her relationship with Scott, she has been peppering her social media with clues about both. From matching tattoos to big sparkly rings, Jenner has many believing that she and Scott are not only going to be parents, but also man and wife. At the very least, the two of them seem to be committed to one another.
They Have Matching Tattoos
To some, matching tattoos are the ultimate sign of commitment, and Jenner and Scott decided to make their commitment known in the form of small butterfly wings on their ankles, as E! News reported. When the two are put together, they make a full butterfly. Entertainment Tonight pointed out that butterflies have a special significance to Scott, who wrote a song called "The Butterfly Effect" shortly after he began dating Jenner. He has also referenced butterflies on social media several times, leading some to believe that it is his nickname for his girlfriend and rumored soon-to-be mother of his child.
She Supports His Career
In October, Jenner posted a photo to her Snapchat of her sporting a necklace that reads "Cactus Jack," the name of Scott's record label. TMZ reported in September that Scott spent $500,000 on nine of those necklaces and it looks like Jenner was the recipient of one. Perhaps most interestingly, the name of the record label is spelled out in what looks like baby blocks. Seems symbolic to me.
Jenner has also attended Scott's concerts, showing her support for his chosen career. In August, the Daily Mail reported that Jenner even chose to spend the night at one of Scott's concerts over catching the debut of her reality show, Life of Kylie. If that's not support, I don't know what is.
She Wore A Diamond On That Finger
Perhaps most suggestively, Jenner posted a Snapchat video while driving to sister Kim Kardashian's baby shower that showed some serious bling on her ring finger. Of course, the video came with no explanation of the meaning behind the ring or where it came from, but the placement and style of the ring were bound to raise questions of potential wedding bells in the future.
They're Reportedly Negotiating Holidays Together
While less exciting than matching tattoos and flashy jewelry, determining which holidays will be spent with whose family is a necessary part of a serious relationship. An anonymous source close to the couple reportedly told Hollywood Life that Travis and Jenner are working out that very problem. Jenner reportedly wants Scott to spend the holidays with her family, but he wants to bring her back to Houston to be with his family. Finding a way to balance familial obligations can be one of the more difficult aspects of a life together, and likely something that Jenner and Scott will have to work out.
As much as fans would love for Jenner to come out and tell them how she feels and whether or not she is expecting, the reality star and makeup mogul seems to enjoy dropping breadcrumbs for fans to follow. But, if momager Kris Jenner has anything to say about it, there will be plenty of publicity for the rumored baby and the rumored wedding — should either come to be. Until then, at least there are plenty of cryptic clues to overanalyze.
Check out Romper's new video series, Romper's Doula Diaries:
Watch full episodes of Romper's Doula Diaries on Facebook Watch.