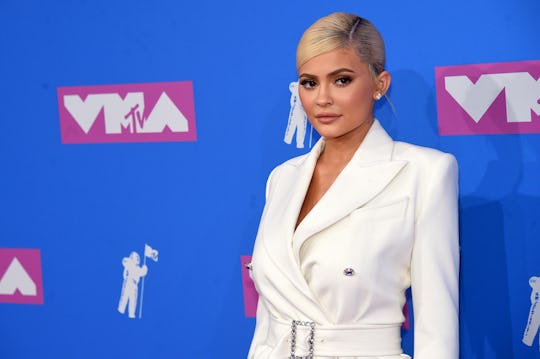 Jamie McCarthy/Getty Images Entertainment/Getty Images
Kylie Jenner's Daughter Got A Personalized Bracelet That's So Cute, You'll Def Want One Too
Kylie Jenner is a bit of a trendsetter, but it's hard for her not to be. After all, she is a makeup mogul and people look for her to create the trends. So it would make sense for Jenner's daughter, Stormi, to be a trendsetter, too. Seriously, after Kylie Jenner's daughter, Stormi, got a personalized gold bracelet, everyone will want one for themselves and their kid.
Stormi is only 7 months old (she celebrates her first birthday in February), according to E! News, but that hasn't stopped her from being an icon-in-training. The super adorable little girl has already expressed an slight interest in makeup, according to People, and has probably spent plenty of time watching her mom getting ready in front of the mirror. But Stormi might want to switch her attention to the fashion industry, because Jenner's latest Instagram post points to the fact that Stormi is one stylish baby.
In Jenner's newest Instagram post, Stormi's little arm is the focus of the photo. On her wrist is a simple gold chain bracelet with a nameplate that is stamped with her name on it, accompanied by a heart and a star. It's a simple accessory that makes a big statement, especially when it belongs to a 7-month-old.
People in the comments section of the Instagram post seem to think that the bracelet is absolutely adorable and perfect for the little girl. And luckily, a bracelet like this isn't too hard for fans to score for themselves (and isn't out of budget, either). A similar children's ID bracelet starts at $38 and comes in rose gold and silver, in case yellow gold isn't your thing. For those who like having options, this bracelet starting at $36 allows the buyer to choose the color the bracelet comes in and the font.
But if you are looking to score a nameplate bracelet for yourself, it is just as easy. This adult-sized ID gold plated bracelet from Etsy is super dainty, just like Stormi's — and the best thing is, it's only $17. And if you're looking for an investment piece, this 18 karat gold ID bracelet starts at $355.
Although trends may come and go, bracelets like these are pretty timeless and make for great gifts — your name is something that never goes out of style. So, who wouldn't want to wear it on their wrist all the time?
But this isn't the first time that Jenner has hinted that her daughter might become a fashion icon.
During a tour of her purse closet (yes, her purse closet) posted to her YouTube channel, Jenner stated that she was going to save a small Louis Vuitton purse and miniature sized hot pink Hermés Birkin bag to be Stormi's first purse ever, according to People. "This one I'm definitely going to let Stormi wear probably when she says 'Mommy, I want to carry a purse,'" Jenner said.
But, let's be real — it's kind of hard for Stormi not to be interested in fashion (or fantastic accessories) when her mom has such an amazing closet that is reserved just for purses.
Although Jenner might have stated once that she wasn't going to show Stormi's face on Instagram, according to Teen Vogue, that clearly isn't the case now. On Tuesday, Jenner posted the absolute cutest photo of Stormi and her cousin, Chicago West, laying on a bed in matching pink pajamas having a "slumber party," according to Entertainment Tonight. The photo is really too cute for words.
Moral of the story? Don't underestimate Stormi's power as a fashion influencer, because her mom is one of the best out there.