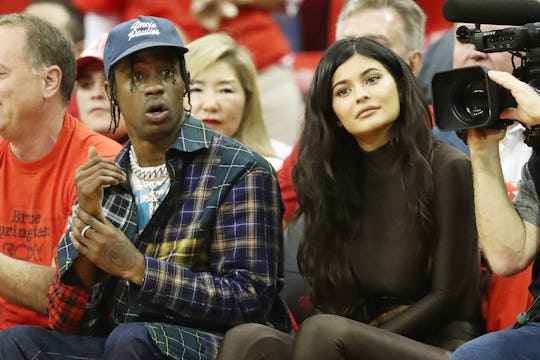 Ronald Martinez/Getty Images Entertainment/Getty Images
Baby Stormi Gets SO Excited Watching Her Dad Perform In This Video & OMG, My Heart
Kylie Jenner and Travis Scott's daughter, Stormi, may be only 9 months old, but she's already got a whole lot of life experience under her belt. Over the past month, Stormi has joined her dad on his national Astroworld tour, and clearly seems to be enjoying life on the road. And while she may not be at concert venues like Madison Square Garden with him, Kylie Jenner's daughter Stormi watched Travis Scott perform on TV and, thankfully, there's video of it. And you're going to want to sit down for it because cuteness overload is coming your way.
Scott's Astroworld tour has drawn in fans from across the nation. Although they might claim to be diehard fans of the rapper, it's obvious that his daughter, little Miss Stormi Webster, is 100 percent his biggest fan. On Tuesday evening, Scott posted the sweetest videos of his daughter on his Instagram, showing just how excited she is to see her papa do what he does best.
In the videos, Stormi can be seen wearing the cutest camouflage overalls and hanging out, presumably back stage, watching her dad perform on a TV. As Scott sings and walks across the stage, Stormi giggles, squeals, and flaps her arms just like he does. TBH, this video might be the cutest thing you'll see all day.
This isn't the first time Stormi has expressed that she really loves her dad. In another adorable video posted to Jenner's Instagram account last week, Jenner filmed her daughter struggling to say "Kylie Cosmetics" but captured her saying "Dada" on camera perfectly. This, combined with the fact that Stormi looks so taken by her father while watching him perform, sure seems to prove that the 9-month-old is pretty impressed with her papa.
Jenner said it herself during a Q&A session on Snapchat in October, According to Us Weekly, Jenner explained that Stormi loves her of course, but really loves her dad:
She is obsessed with her dad. They have this crazy connection, and she's definitely a daddy's girl, it's cute to watch. When Dad's around, I'm not even there, it's like she doesn't even see me, but it's cool, whatever.
While Stormi seems content watching Scott on stage, he's also doing his best to make sure that his daughter is loving life on the road. During a recent appearance in Atlanta, Scott told E! News that she is having such a good time on tour. "I keep Stormi on the road, she's got her own dressing room vibe, got her own bus vibe," he told the news outlet.
And Scott told E! News that he is so grateful that he can bring his daughter on tour with him, especially because he's figuring out this whole "parenting" thing every single day, as he explained:
It's so hard, because I grew up in a different household where I never had a nanny or nothing like that — my parents were never on a tour — so being able to do that and figure it out at 26. it's like hard, but when you're going through it, it's like "Oh this is so dope."
One day, Stormi will be big enough to rage with fans in the audience and fully cheer on her dad while he rocks out on stage. But until then, let's just hope we get more adorable glimpses of her excitedly watching her dad back stage.
This first-time mom wants to have a home birth, but is she ready? Watch how a doula supports a military mom who's determined to have a home birth in Episode One of Romper's Doula Diaries, Season Two, below. Visit Bustle Digital Group's YouTube page for the next three episodes, launching every Monday starting November 26.