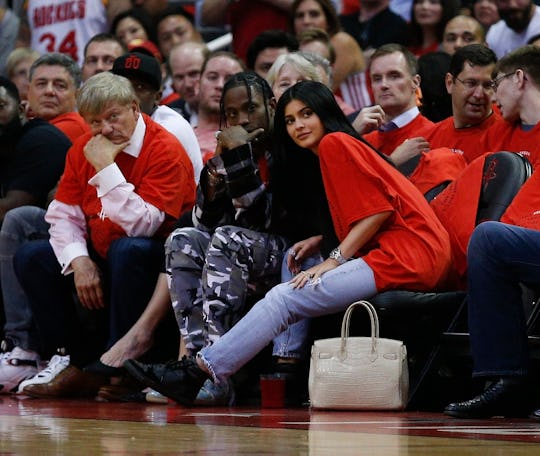 Bob Levey/Getty Images Sport/Getty Images
Kylie Jenner's Family Vacation Photos With Travis Scott Will Make You So Envious
In case you missed the news, Kylie Jenner jetted off to Turks and Caicos on Tuesday with her boyfriend, Travis Scott, to celebrate his 26th birthday. And to make the trip even sweeter, the couple decided to bring their 3-month-old daughter, Stormi Webster, along for the getaway. Although it's already clear that the couple does a great job of balancing their relationship with parenthood, Kylie Jenner's family vacation photos with Travis Scott act as additional proof that the two are pros at this delicate balancing act.
If you know anything about Jenner, it's probably that she does an awesome job of celebrating the people she loves. Case in point: Jenner rented out Six Flags in Valencia, California on Saturday to commemorate Scott's 26th spin around the sun. Talk about an incredible gesture, right? But wait — the good times didn't stop there. Jenner decided to up the fun by whisking Scott away to Turks and Caicos on Tuesday, just one day after his actual birthday on April 30. And while Jenner could have made this trip strictly romantic (there would be nothing wrong with that), she decided to bring Stormi on the trip. Of course, this makes sense when you consider Jenner revealed on Tuesday that she hates to leave Stormi behind.
Jenner said at her interview with Evening Standard, according to E! Online:
Even when I'm here it was so hard to leave this morning. I'm like, 'I'll be right back, I'm so sorry, I have to leave!' and she doesn't even know what's going on. I think about her all the time, anywhere I am. I would rather be with her or wish she can come everywhere. I can't wait till she can come everywhere with me, because right when she's old enough I'll bring her everywhere.
The good news is Jenner and Scott do an awesome job of balancing their relationship with parenthood. Want proof? Look no further than these photos of Jenner and Scott enjoying quality time with each other in paradise. "Birthday behavior," Jenner captioned a photo uploaded on Tuesday of the couple hanging out aboard a yacht.
And shortly after the boat pic, Jenner shared a snap of the duo frolicking on the beach. Jenner didn't use a caption for this pic because are words really needed here?
In between all the lovey dovey moments, Jenner and Scott took the opportunity to bond with Stormi. Following the romantic snaps, Jenner shared a pic to Instagram of Stormi lounging alongside who I assume is Scott. "My pretty girl is 3 months old today," Jenner captioned the adorable post.
Editor's Note: The Instagram post has since been deleted.
And, on Wednesday, Jenner shared what might be the best photo from the trip so far. Behold a beach ready Jenner cradling a sundress clad Stormi.
Editor's Note: The Instagram post has since been deleted.
Does it get any cuter than this? For starters, I'm amazed by how much Stormi has grown these past three months. Additionally, this is a wonderful portrait encapsulating Jenner's love of motherhood. And as it turns out, a lot of people agree with my sentiments.
"Omfg beautifuls girlssss," one fan wrote in the post's comments section.
Someone else chimed in: "This is such a precious picture."
"Beautiful mommy and baby," another commenter said.
As for Jenner getting to enjoy some personal time during the trip (new parents definitely deserve self-care), she managed to snag some R&R. "Morning in paradise," Jenner captioned a shot of herself chilling on a lounge chair.
Jenner also uploaded a cute pic of herself cruising away on her yacht. "MIA," Jenner wrote on the 'gram.
Yep, it's clear Jenner and Scott know how to balance all of their needs as parents. From making time for romantic moments to creating memories with their daughter, Jenner and Scott are masters of this difficult dance called parenting.
Check out Romper's new video series, Bearing The Motherload, where disagreeing parents from different sides of an issue sit down with a mediator and talk about how to support (and not judge) each other's parenting perspectives. New episodes air Mondays on Facebook.