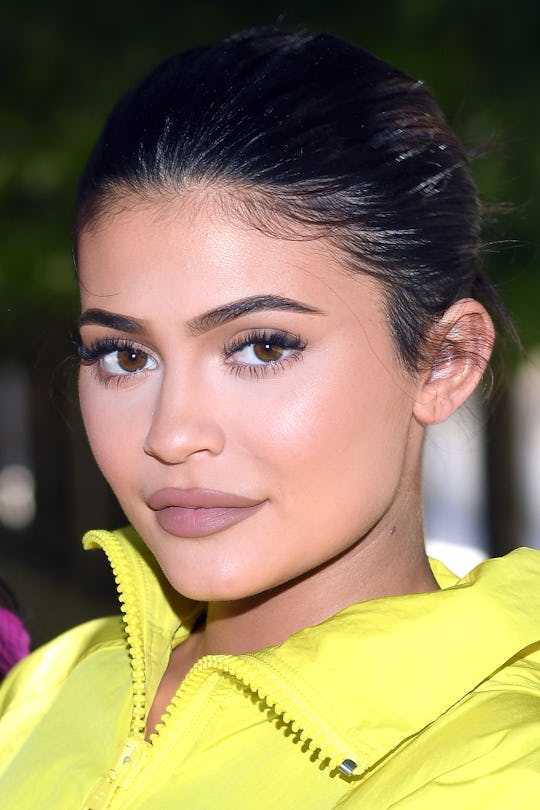 Pascal Le Segretain/Getty Images Entertainment/Getty Images
Kylie Jenner's "First Photo Shoot" After Stormi Was Born Marks A Pretty Special Occasion
Kylie Jenner has stated that she's already planning an epic party for Stormi's first birthday in February 2019, so it shouldn't come as a surprise that the makeup mogul's 21st birthday is off to a fierce start before it's even technically begun. On Tuesday, the almost-21-year-old shared a series of photos that were taken in honor of her upcoming birthday. And as it was revealed on Twitter, this was actually Kylie Jenner's first photo shoot after Stormi was born. First of all, it's absolutely awesome and it proves that she is going to keep owning the makeup game as a mom.
The Keeping Up with the Kardashians star, who will turn 21 on Aug. 10, debuted the stunning images on Instagram Tuesday evening. She posted a technicolor photo of herself lounging in a bathtub amongst balloons, while wearing a fluffy hot pink dress, a black feathered headpiece that says "secret location," and sheer black thigh high stockings. The photos were taken for her new Kylie Cosmetics collection, which seems to simply be called the 21 Collection.
"Bday mood all month long 💙" Jenner captioned the photo. "Can't wait for this special collection for @kyliecosmetics to launch on AUGUST 6TH. Thank you @brendanforbes for these bomb pics for all my packaging!" she added, referring to celebrity and beauty photographer Brendan Forbes.
To give fans a teeny-tiny behind-the-scenes look at the collection, Jenner took to Twitter to share a fun fact about the photo shoot. She thought of the idea back when she was pregnant with Stormi, who is almost 6 months old, meaning Jenner has been sitting on this idea for more than half a year.
"Fun fact: that was my FIRST photo shoot I did after Stormi for my bday collection!" she tweeted. "I had to turn those photos in ASAP to make timing! I thought of the idea while I was preggers. 💕✨"
She also added that this is her most personal [packaging] yet:
Additionally, Jenner turned to her Instagram Story to reveal the newest Kylie Cosmetics collection which is 21-themed, naturally. And luckily for those on the fence about shelling out the cash for her newest collection, Jenner provided fans with an inside look at the new products in her Insta story, where she explained why she was releasing the collection in honor of her birthday. She narrated:
I can't believe I'm about to be 21. I also can't wait to share this collection with you guys. It's definitely the most personal collection that I've done, so I hope you guys love it. My birthday collections are super special to me because the first collection I ever did was for my 19th birthday, so this is going to be my third annual birthday collection.
Then, she then took fans on a virtual tour of the 21 Collection, which is filled with more pictures from the photo shoot. As one might imagine when it comes to a 21-themed anything, the collection has multiple references to alcohol and partying. For example, the lip trio's box is decorated with red Solo cups, and a photo of Jenner printed on another box shows her eating a cupcake that says "get lit" in glitter:
A pressed powder palette included in the collection features the bright photo that Jenner shared on Instagram:
The collection comes with six matte lipsticks, and each one is individually packaged in a box with a different photo of Jenner, each of which was taken by Forbes:
Considering Jenner has spent the past six months caring for Stormi, and the nine to 10 months before that focusing on her pregnancy, it's pretty dang impressive that she is releasing such an extensive makeup collection this summer. I mean, just LOOK at how much it comes with:
As Jenner mentioned in her Instagram post, the 21 Collection will drop Aug. 6.