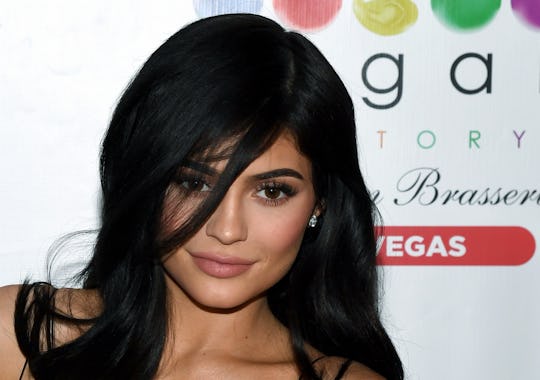 Ethan Miller/Getty Images Entertainment/Getty Images
Fans Are Blown Away By How Much Kylie Jenner's Baby Carrier Costs
It's safe to say most people aren't surprised that Kylie Jenner has the finest of everything for her 4-month-old girl, Stormi Webster. Jenner makes a lot of dough from her company, Kylie Jenner Cosmetics, and money isn't a much of a worry in the Kardashian-Jenner household. Still, fans can't help but be blown away each time they spot Stormi rocking an expensive onesie or when they see a video of the baby cruising along in a ridiculously pricey Fendi stroller. As for the latest item that has people talking, look no further than Kylie Jenner's Gucci baby carrier. Spoiler alert: it costs so much it actually hurts.
One of the notable things about Jenner is how casual she is about her massive wealth. Case in point: On Sunday, Jenner took to Instagram to share a seemingly low-key pic of Stormi snuggled up in a designer baby carrier. And at first glance, the photo — taken at North West and Penelope Disick's joint birthday party — looks like any other pic a parent out there might share. For starters, Jenner is wearing the perfect kid birthday party attire —comfortable looking shorts and a loose-fitting white t-shirt. Additionally, there's a good chance Stormi is snoozing in the pic, and I bet a lot of parents of newborns know what it's like to take their sleeping child to a bustling family event. Sometimes you just gotta do what you gotta do.
If you're a fashion conscious person, however, it probably didn't take you long to notice that the snap is anything but ordinary given that Stormi's baby carrier is a Gucci product. Yep, little Stormi is living out her young life in total luxury.
So, how much does a baby carrier from Gucci cost? In a not so shocking twist, the retail price for this item is a whopping $820, according to E! Online. Sheesh, that's an entire rent check.
Of course, many people are shocked by the hefty price tag. It makes sense when you consider most people can't drop close to $1,000 on an luxury item for their child.
"Kylie Jenner is only 2 years older than me and she's carrying her baby around in a goddamn gucci carrier and i can't even put gas in my tank wtf," one person penned, according to Twitter.
"It's crazy to me that @KylieJenner can drop over $600 on a baby carrier and to me spending 30 bucks on one make me cringe and I can never get myself to buy it," another fan added.
"I can't afford to pay my monthly $193 student loan payment, and then there's this," someone else added.
Obviously, there's no denying Jenner's Gucci carrier is above budget or simply not practical for many parents. And to put the $820 carrier's price tag into perspective, a well-reviewed baby carrier from Target costs $29.99.
But to be fair to Jenner, this Gucci carrier makes perfect sense for her lifestyle. Not only can Jenner easily afford this item, but it also rings true to her brand. The Gucci print — and other luxury prints — are typically sought after for status as opposed to fashion. And if you're wondering why Jenner would need to flaunt her status as a wealthy person if that's already common knowledge, remember that she's building a brand. Many celebrities out there post pics of expensive stuff because they want their followers to lust after their lifestyle.
On the other hand, it's totally possible that Jenner simply loves the brand Gucci. There's absolutely nothing wrong with liking Gucci or any other high-end brand. To each their own.
As for those who think Jenner's purchase is no big deal, there are plenty of people who fall into this category.
"I live for @KylieJenner's Gucci Baby Carrier and Fendi Stroller," one person wrote.
"Snap articles out here worried about @KylieJenner spending $700 on a baby carrier acting like she doesn't own 7/8 luxury cars," a commenter joked. "'money ain't a god damn thang.'"
"Ever since I saw @KylieJenner with that Gucci baby carrier, I cant stop thinking about getting one for myself," a fan gushed.
"Deffo NEED Kylie Jenner's Gucci baby carrier to carry joe around in," a parent said.
At the end of the day, this is about Jenner's happiness as a parent. If Jenner wants to deck Stormi out in Gucci, then more power to her. Jenner worked hard for her fortune, after all, and she should be able to enjoy her first year of parenthood in peace.