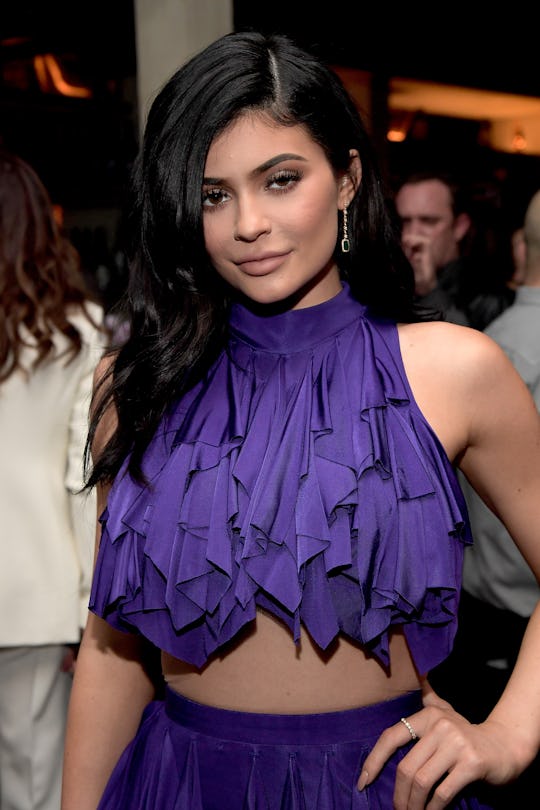 Charley Gallay/Getty Images Entertainment/Getty Images
Kylie Jenner's High Chair For Stormi Is Surprisingly Practical — Here's Where To Get It
From custom strollers to high-fashion infant carriers in the same pattern of your boss' purse to top-of-the-line nursery decor, the KarJenner clan has never been shy about letting its youngest members live in the lap of luxury. Well, one member of the clan has finally bought a store-bought item many moms might also have, and Kylie Jenner's highchair for her daughter Stormi is so surprisingly practical, it will make you feel like you also live in Calabasas. Because you might, this time, actually know of and own the brand.
In a cute new video Jenner posted on Snapchat recently, she catches 8-month-old Stormi Webster, trying to grab what looks like candies or cereal from her highchair tray. But upon some detective work, a close-up reveals that Jenner is talking to her adorable baby over a Peg Perego Siesta Highchair, which, while not exactly cheap, is a sturdy and reliable brand favored by experienced moms who know it will last from kid to kid. I had several Pegs, and the $299.98 price tag didn't freak me out, knowing the reputation and loyal following. (Plus, they were passed to other moms after that, and are probably still out there in use, for all I know.)
So how nice to discover Kylie Jenner's got an "everymom" streak... something I think you can see from her frequent and adorable posts about her relationship with her baby, her first with boyfriend Travis Scott, who she has called her "happy place" and her "little princess," as People detailed.
Just to clarify, the KarJenner flashy streak has never particularly bothered me. They've got a brand to perpetuate, after all, who would watch if they went to Paris not to see fashion shows but to complain about how much a croissant off the street cost? Would anyone be interested if their endless sibling dynamics took place in a rusty car instead of on a yacht, or poolside at an L.A. mansion? Come on!
Still, for some reason, every time I particularly note something super-ordinary or especially relatable about a member of Kardashian clan, I get excited. I guess it's that feeling that for all the fame they have, as a mom, you're pretty much in the same boat: Get up, feed the kid in the highchair, get coffee...eventually... and repeat.
When it comes to her own life, Jenner's not particularly shy about showing off some of her prized possessions: She received a Rolls Royce from Scott for her birthday in August, according to Us Weekly. (Ex BF Tyga previously gave her a Mercedes, Us Weekly added.)
And her birthday party that month, chronicled on her Instagram, looked pretty fancy-schmancy gorgeous. According to Hollywood Life, Jenner already knows she wants another baby, maybe not right now, but at some point. "Have I thought of baby names for my next baby?" the site quoted the star as revealing in a Snapchat Q&A. "I have, but I haven't found anything that I 'love' love... But I definitely want another girl, hopefully, and I want her to have a really feminine name."
Funnily enough, 21-year-old Jenner's older sis, Kim Kardashian West, recently told People that Kylie really is such a parenting pro that she's the older sister's new go-to for mom advice. "Kylie's up on all the new gadgets and the new baby stuff," Kardashian told People over the summer.
She's certainly a parenting natural, and as Forbes magazine outlined over the summer, she's a business maverick, too, on track to become the youngest-ever self-made billionaire Which is amazing, but she has also said that one of the biggest dreams she has is to leave her Kylie Cosmetics empire to her daughter, if she wants it, as Cosmopolitan reported.
Love it! And love the regular-mom highchair choice, too.