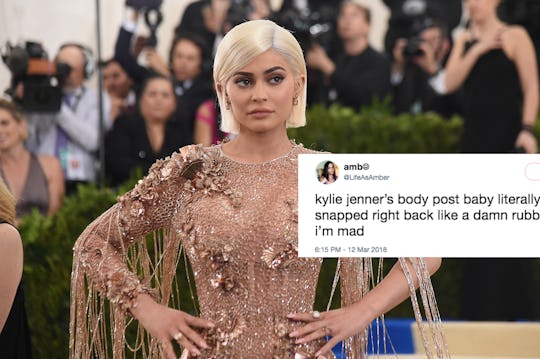 Nicholas Hunt/Getty Images Entertainment/Getty Images
Kylie Jenner's Hot Tub Photo Showcases Her Post-Baby Body & Fans Are In Shock
There can be a lot of pressure on new moms when it comes to "getting back" their pre-baby bodies. As if parents don't have enough on their plates as it is with a newborn. Between healing from childbirth, caring for a tiny human who relies on you for literally everything, attempting to get something resembling sleep, a new mom's weight and fitness level often isn't on her radar of priorities — especially at less than two months postpartum. Even so, with each new photo Kylie Jenner shares of herself, people keep commenting on her physique. Most recently, Kylie Jenner's hot tub photo gives fans a glimpse of her post-baby body, & fans are in shock.
As Us Weekly reported, Jenner took to Snapchat on Friday following a photoshoot in the mountains with her BFF Jordyn Woods. Earlier in the day, the dynamic duo posed for shots taken by Rays Corrupted Mind, who, along with Jenner, shared a few images on Instagram. However, a shot of Jenner and Woods relaxing in a hot tub on Friday evening is what fans are talking about a day later. Although it's been less than two months since the Kylie Cosmetics maven welcomed her daughter, her "trim torso" — as Us Weekly put it — seems to have caught fans off guard.
Of course, this isn't the first time Jenner has given followers a glimpse of her post-baby body. Before the new mom shared pictures of baby Stormi on her 1-month "birthday," Jenner posted a video of herself — showcasing her bare midriff — on Snapchat and Instagram stories. This mirror selfie posted by Jenner on March 1 caused quite the stir, People reported.
On March 10, Jenner also shared a mirror selfie with her BFF Jordyn Woods, Us Weekly reported. In the shot, the new mom is rocking a crop top just over one month after Stormi's birth. "Back at it again," the Lip Kit mogul captioned the photo.
Over the past couple of months, Twitter has had plenty of feelings about Jenner's post-baby body — ranging from envious, to angry, to downright accusatory. "Kylie Jenner's body post baby literally just snapped right back like a damn rubber band. I'm mad," one person tweeted.
Another Twitter user lamented, "Kylie Jenner has a flat stomach just one month after the birth of her kid. And here I am cradling my food baby."
Yet another person tweeted, "Kylie jenner can f*ck outta here with her 1 month postpartum flat stomach like WE GET IT, U CAN AFFORD LASER LIPO."
It's pretty clear that Jenner's social media followers are shocked at how quickly Jenner's flat tummy has returned after giving birth. However, as women's health expert, Dr. Jennifer Wider, told Yahoo! Lifestyle, it is entirely within the realm of possibility for Jenner to "bounce back" this quickly on her own. "Each woman is different — her labor and delivery is different and her postpartum recovery is different, and depends on many, many factors," Wider said. "In the case of Kylie Jenner, she is 20 years old; it is her first pregnancy, and she was in excellent physical shape before and during her pregnancy. Also, unlike the average American woman, she probably has a team of experts helping her: nutritionists, chefs, workout trainers. This can speed the recovery process along as well." She continued
Younger women tend to have an easier time bouncing back to their pre-pregnancy bodies for several reasons. Younger skin tends to be more resilient than older women's skin. And if the skin hasn't been stretched in subsequent pregnancies, it helps a lot too. Younger women tend to have a faster metabolism in the late teens, early 20s, so they can burn calories faster than older women, which results in quicker and faster weight loss.
I had my first baby at age 23, and because of some combination of my age and genetics, you wouldn't have been able to guess that I had given birth. By kid number three, however, my residual pregnancy pooch stuck around for a while longer. So part of me is indignant that people are accusing Kylie Jenner of plastic surgery. The other part of me wonders that her posting photos like this sets other young women up for unrealistic expectations — or makes women who already have kids feel badly for not "bouncing back" as quickly. Putting so much emphasis on a woman's body after she spent 10 months growing another human being probably isn't the best idea.
The bottom line: It's important to take into consideration Kylie Jenner's age and circumstances before you judge her or yourself too harshly. Because every woman's body experiences pregnancy and the postpartum period differently.