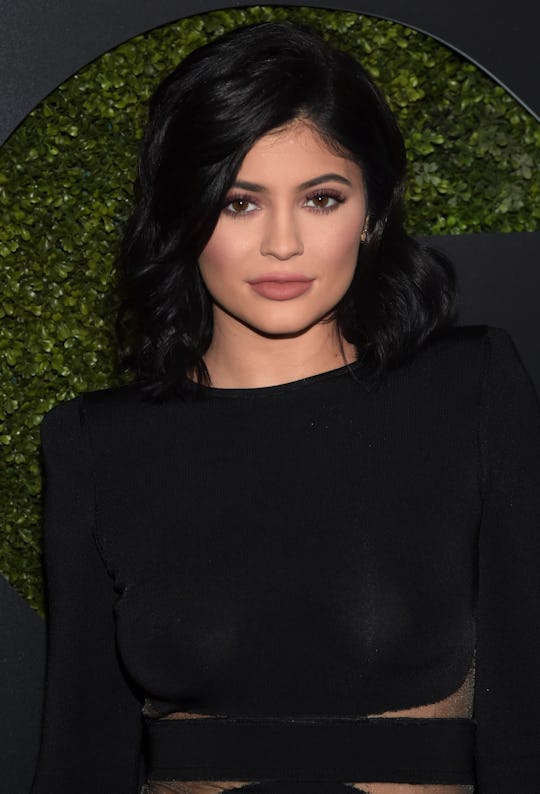 Jason Kempin/Getty Images Entertainment/Getty Images
Kylie Jenner Just Shared A New Selfie With Baby Stormi & It's The Epitome Of #MomLife
Those who literally keep up with Kardashians/Jenners on social media know that their feeds are often filled with shots of the famous sisters all dolled up in designer clothing and full faces of makeup. So even though most of the Kar-Jenner gang are mothers at this point, I often find it difficult to relate to their glamorous lives. That's why it's always a breath of fresh air when one of the sisters posts about something real: Like kids who aren't cooperating, feeling exhausted because parenthood is hard, or just for once, having a bad hair day. The way I see it, Kylie Jenner's new photo with Stormi is peak mom life. And honestly, is so relatable.
The Kylie Cosmetics mogul took to Snapchat and Instagram Stories on Monday to share a sweet shot with her 2-month-old daughter, Stormi Webster. Instead of the usual promotion for lipstick and other makeup, however, the new mom shared snaps of herself snuggling her baby girl while — get this — sporting less-than-perfect hair and a hoodie. *Gasp*
Jenner captioned the shot, "Our hair both a mess but," followed by an emoji face with heart eyes and a face with its tongue sticking out. The back of baby Stormi's head is visible, with her wispy tufts of hair also looking adorably untamed.
Jenner also shared a few-seconds-long video clip of their messy look — as well as a longer video of baby Stormi smiling and giggling in her sleep. (Which is, hands down, one of the cutest things I've seen in a while.)
This, right here, is a heck of a lot closer to what motherhood looks like for me. At any given point in time, you can find me wearing workout clothes with a headband and my hair back in a ponytail. I'll probably have on some eyeliner (because it makes me look slightly less un-dead), and some concealer. But that's it. No fake lashes. No manicure. And definitely no contouring. And I'm going to go out on a limb and assume that plenty of her followers are digging the messy hair shot as much as I am. That's because we're so used to see the glam side of Jenner's motherhood journey.
Or the shots of her "flaunting" her post-baby body mere weeks after giving birth, as TMZ put it. (The way I see it, she's just rockin' what she has.)
Along with photos that remind us of exactly how rich we aren't. (Trust me, the bottom line of my bank account reminds me of this fact every day.)
For the record, Jenner's snap today technically isn't her first selfie with baby Stormi. The Keeping Up with the Kardashians star posted a sweet photo of herself with her daughter back in March that actually claimed honors, Us Weekly reported.
Another recent — and particularly relatable — Kar-Jenner post that I also think is worthy of #MomLife was Kim Kardashian's family photo fail. On April 4, the KKW Beauty founder shared the first-ever picture of her family of five, as People reported. But it was the caption that had me going, "Same, girl. Same."
The mom of three wrote, "I don't think you really understand how hard it is to take a good family pic. This was all we got before all three kids started crying. I think I cried too." LOL.
Not long afterward, Kim K. posted a hilarious follow-up on Twitter, writing, "One hand holding the baby and the other hand grabbing the back of Saints shirt because he kept running away lol."
I'd like to point out that Kylie Jenner and her sisters are in no way obligated to share "real" photos of their lives social media. The glamour, the expensive house/cars/purses, and celebrating their bodies are all realities for them. And they have managed to build a family empire with the help of social media, after all. But as a mom of three who loves the Kardashians — despite the fact that I have next to zero in common with them — I'd like to thank Jenner for acknowledging that motherhood can be messy at times, too.
Now if she would only post photo of her shirt after being spit up on by a newborn... Hey, a mom can dream.
Check out Romper's new video series, Bearing The Motherload, where disagreeing parents from different sides of an issue sit down with a mediator and talk about how to support (and not judge) each other's parenting perspectives. New episodes air Mondays on Facebook.