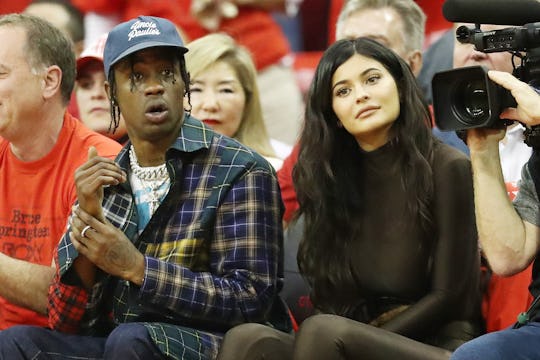 Ronald Martinez/Getty Images Entertainment/Getty Images
Kylie Jenner Is Posting Pics Of Stormi Again After Saying She Was Keeping Her Off Social Media
A lot can change in a year, and Kylie Jenner is proof of that. One year ago, Jenner was pregnant (and keeping it a secret) and about to take a huge hiatus from posting on social media. But, in February, Jenner gave birth to her daughter, Stormi, with her boyfriend, Travis Scott, and since then she has been sharing bits of her life with fans, all while still keeping some things private. But on Saturday, Kylie Jenner posted two new photos of Stormi to her Snapchat, after saying she wouldn't do that anymore, and it's a pretty big deal.
Just a few weeks ago on June 12, Jenner told fans on Instagram that she was no longer going to be sharing photos of her daughter's face, according to E! News, and even deleted all of the photos of Stormi that she had previously posted to her account with her daughter's face in them, according to Cosmopolitan. So, fans were probably pretty surprised on Saturday when they opened up Snapchat and discovered that Jenner had shared two photos of Stormi to her story.
Sure, the photos posted to Jenner's Snapchat account didn't show much of Stomi's face, but they did mark the first time that fans had gotten to see the little girl in a few weeks, as E! News reported.
In the first photo, Stormi posed on a bed, looking over at something else in the room. "My little love," Jenner captioned the photo. And in the final photo, Stormi is seen cuddling in Jenner's arms, asleep, and looking so much bigger since the last time fans saw her. "Nothing better," Jenner wrote on the picture.
Even after swearing off sharing photos of her daughter, you can tell that Jenner wants to share them so badly, which is probably because she has so much love for her little girl. People can't argue with how sweet Jenner's comments are about her daughter in these new Snapchats, and fans can clearly see how much Stormi means to her. With as much love as she has for Stormi, it's obvious why Jenner would want to share it with the rest of the world. But since Jenner told a fan on Instagram on June 12 that she was "not sharing photos" of her girl "right now," according to People, fans have to respect that decision and her decision to occasionally go against her word, like she did on Saturday.
Not only is it just a bit surprising that Jenner would post a photo of her daughter's face to her Snapchat, but the fact that Jenner is using Snapchat at all might seem a bit odd to some fans. In February, Jenner revealed on Twitter that she hadn't been opening up Snapchat as much as she used to following the platform's redesign, according to Forbes. "Still love you tho Snap...my first love," Jenner tweeted. Hours after Jenner tweeted that, Snapchat's stock fell 7 percent, according to Forbes, proving how just much influence Jenner has.
Although she made this public declaration a few months ago, that isn't to say that Jenner hasn't been posting to the platform — she just hasn't been posting to it as much as she used to in the past. Just last week, on Snapchat, Jenner revealed that she is already planning Stormi's first birthday party, months before it is set to happen, according to People. "Stormi is going to be five months this weekend, which is really tripping me," Jenner said, according to People. "That means we're halfway to a year...almost. And I'm already thinking about her first birthday and how it's going to be epic."
It's a great thing that Jenner isn't completely over Snapchat. Without the platform, fans wouldn't be updated about Jenner's life as a mother or get to see super cute glimpses of Stormi, just like they did on Saturday.