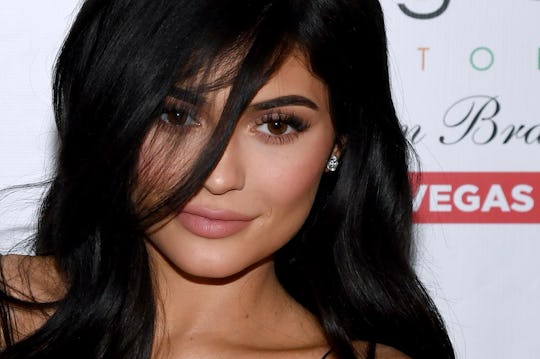 Ethan Miller/Getty Images Entertainment/Getty Images
Kylie Jenner's Newest Photo Of Stormi Is Seriously Beautiful
Fans of the Kardashian-Jenner clan have been dying to get a closer look at its newest member, but until Friday, they had to settle for a pic of her little hand and another where her sweet face was mostly obscured by a giant pacifier. The wait is finally over, though, and Kylie Jenner's newest photo of Stormi shows she looks just like her mom. At 7 weeks old, she's already a master at posing for selfies — it's in the genes, obvs — and it looks like she lucked out and inherited her mother's eyes, as well.
Fans still haven't seen her first smile (it may be another few weeks before she gains that skill), but her lips seem to resemble her cousin, North's, in the trio of photos Jenner posted to Instagram on Friday afternoon. And it's hard to tell under all that adorable pudginess, but she just may have wound up with mom's cheekbones, too. Her nose appears to come from her dad, rapper Travis Scott, née Jacques Webster. Stormi Webster is the couple's first child. She was welcomed on Feb. 1, bringing an end to months of speculation over Jenner's unconfirmed pregnancy. Her birth was announced three days later.
Followers of the famous family had come to expect complete and total candidness from the reality stars, so their refusal to fess up about Stormi's impending arrival was frustrating to some. Jenner apologized for the lack of transparency in her birth announcement:
I'm sorry for keeping you in the dark through all these assumptions I understand you're used to me bringing you along on all my journeys. My pregnancy was one I chose not to do in front of the world. I knew for myself I needed to prepare for this role of a lifetime in the most positive, stress free, and and healthy way I knew how. There was no gotcha moment, no big paid reveal I had planned. I knew my baby would feel stress and every emotion so I chose to do it this way for my little life and our happiness.
It's sad that she felt she had to apologize to a bunch of strangers for not sharing every intimate detail of her life and her reproductive choices with them, but it's understandable. She's been starring on a reality show since she was just 10 years old, and her older sisters have regularly invited film crews to accompany them to the OB-GYN. It's expected of them at this point. But she's an adult now, and a mother, so she gets to decide what's best for herself and her family.
It's unclear how how much the public will see of Jenner in the future, as she's expressed a desire to leave the show behind before. "I would love to have a family and build a home with a farm in Malibu Canyon and just have my kids and throw away my phone," she said in an Elle UK interview in 2015, according to People. "Just really, like, live my life and not do this anymore." She may have changed her mind since then, at least a bit, because she also predicted, "Once I have a kid I'm not going to be on Instagram. You know, I'll probably delete my Instagram and just… I don't know, live life."
Clearly, that hasn't come to fruition, but honestly, posing on Instagram and Snapchat is the only life she's ever known. It may take some time for her to figure out what she really wants, and if that's a life that's not constantly being broadcast to the world, it could be tough to transition, especially when the cameras are still rolling at Grandma's house. Luckily, we all got at least a few glimpses of that beautiful baby, and if these are the last at least they were good ones.