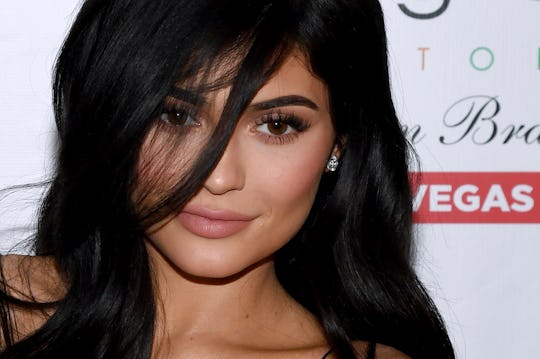 Ethan Miller/Getty Images Entertainment/Getty Images
Fans Are Super Anxious About Kylie Jenner's Reaction To Kim K's 3rd Baby
The conclusion of the Kar-Jenner sisters' New Year baby saga is nearly upon us. Two of the sisters have confirmed their pregnancies and Kim Kardashian welcomed a healthy baby girl via surrogate on Tuesday, according to a statement on her app. Kylie Jenner still hasn't weighed in on her own pregnancy rumors and fans are anticipating Kylie's reaction to Kim Kardashian's baby announcement. The rumor that she was Kim K's surrogate has been circulating online for a while now, and fans think she is preparing to announce that she was.
Kim announced the arrival of her baby girl on Tuesday, sharing the news over her website and her personal Twitter page. The newest member of the family arrived at 12:47 a.m. PT on Monday, Jan. 15, weighing in at 7 lbs 6 oz, according to a post on her official website titled, "She's Here!"
Kanye and I are happy to announce the arrival of our healthy, beautiful baby girl. We are incredibly grateful to our surrogate who made our dreams come true with the greatest gift one could give and to our wonderful doctors and nurses for their special care.
She went on to say that the baby's siblings, 4-year-old North and 2-year-old Saint, "are especially thrilled to welcome their baby sister." Since Kim announced the big news, mom Kris Jenner and sister Khloé Kardashian have also retweeted and shared the online birth announcement as well.
One sister who hasn't chimed in as of yet is Kylie. But that hasn't stopped fans from sharing their two cents on her role in it all. The rumor that Kylie is carrying Kim and Kanye's baby has been circulating for a while now, but a couple of recent events have added fuel to that fire. For one thing, another rumor was bouncing around on Twitter a few days ago that Kylie was in labor. TMZ later contradicted this rumor and reported that a source close to Kylie's boyfriend Travis Scott told the outlet that she isn't even due this month.
As if that weren't enough, fans read into one action of Kylie's on a recent episode of Keeping Up With The Kardashians. She gave each of her sisters a box of pink donuts that spelled out their names. Past social media postings of pink things have led fans to believe that she was having a girl, and the donut boxes could have been her version of a gender reveal. Combine that with the news that Kim's new baby is a girl, and even a skeptic would have to admit that the theory seems somewhat plausible.
Fans on Twitter have posited that the sister surrogacy rumor has gained traction with Kim's pregnancy announcement.
The coincidence of Kylie being in labor and Kim's baby arriving just a few days later seems to be a bit too much for fans to not see a connection.
Others providing additional predictions to the existing theories, expanding on the idea that Kylie served as surrogate. New questions were raised, such as how long ago the sisters began discussing surrogacy, why Kylie would have been chosen over other sisters, and what sort of surrogacy was used.
Not everyone is convinced that rumor holds water, though. Arguably, there are a couple of flaws that can't be overlooked. For example, information has been shared about Kim's surrogate, including that she is a married woman in her 20s with two kids of her own, according to the Daily Mail. Also, it does seem questionable that Kylie would choose to have her first child as a surrogate.
Neither Kim nor Kylie has chimed in on these rumors, and until anyone does, all fans can do is speculate. But, who knows, maybe Kylie's reaction to the news of Kim's baby will be the proof everyone has been waiting for.
Check out Romper's new video series, Romper's Doula Diaries:
Watch full episodes of Romper's Doula Diaries on Facebook Watch.