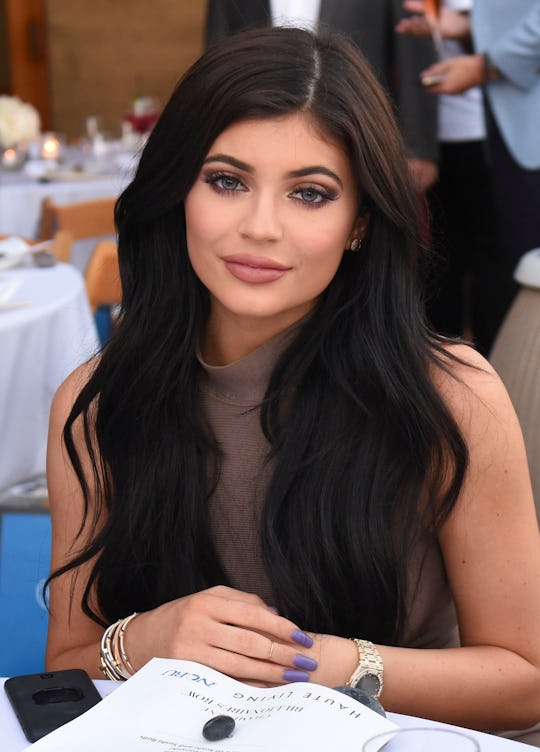 Vivien Killilea/Getty Images Entertainment/Getty Images
Kylie Jenner Shared The Cutest Snapchat Of Baby Stormi Clocking In Some "Tummy Time"
Say what you want about the current generation being addicted to social media, but it's difficult to argue that Twitter, Instagram, and Snapchat haven't connected celebrities to their fanbase more than ever. Before stars harnessed the power of instant updates, fans knew little of their icons' personal lives. Now, though, actresses, singers, and others in the spotlight can share so much more about themselves at the tab of a finger. Whether it's promoting their work and their brands, sharing what they had for lunch, or posting sweet photos of their adorable children, followers are often allowed a glimpse into the lives of the famous that no tabloid could possibly offer. And Kylie Jenner's Snapchat of Stormi's "tummy time" gives fans a peek into a super sweet parenting moment that you wouldn't likely see anywhere else.
On Monday, the Kylie Cosmetics mogul took to Snapchat to share a snippet of her life as a mom with followers — which included some quality tummy time with her nearly-6-month-old daughter, Stormi. In a short video clip captioned "tummy time," baby Stormi can be seen hanging out on a blanket while lying on her belly. As the Daily Mail reported, the baby girl vocalizes and kicks her legs excitedly, and Jenner can be heard behind the camera replying, "Yeah?" Basically, the whole few-second clip is just too cute to handle.
For those not familiar with the concept of "tummy time," allow me to shed some light on this pediatrician-recommended activity. First off, it's exactly what it sounds like — having your infant spend time on their tummy, instead of lying flat on their back. In fact, the American Academy of Pediatrics (AAP) recommends tummy time (while awake) for all infants from birth. Caregivers should place their little ones on their stomachs for three to five minutes at a time, two to three times daily.
"Tummy time helps your infant build strength in his back, legs, arms, and neck," Joanne Cox, a pediatrician at Children's Hospital Boston, told Parents. "This helps with further development, such as rolling over and sitting."
Furthermore, tummy time also happens to encourage babies to practice reaching and pivoting, which oftentimes lead to crawling. Lack of tummy time, on the other hand, can result in infants being delayed in meeting their physical development milestones. So yeah, it's kind of a big deal.
Although Jenner ultimately decided to delete her Instagram photos of Stormi, she had previously shared a number of sweet moments on both Instagram and Snapchat featuring her baby girl. Like the one of Stormi laughing and smiling in her sleep. (So precious!)
Or when Jenner shared the first close-up of her newborn daughter.
It wasn't until June that the 20-year-old mom decided that posting photos of Stormi's face wasn't for her anymore. At the time, the Keeping Up with the Kardashians star shared a photo of herself with just a sliver of her baby girl peeking out from the corner — and her Instagram account had recently been wiped of Stormi's face altogether, E! News reported. When curious fans asked why Stormi was cut out of this most recent snap in the comments section, she replied, "Yeah I cut my baby out. I'm not sharing photos of my girl right now."
Although Stormi's face isn't technically being shown in Jenner's latest tummy time Snapchat, it's still more of her daughter than fans have seen in quite some time.
As cute as Stormi is during tummy time, I have to say I'm a bit jealous. That's because all three of my babies loathed these mini workout sessions with a burning passion. They would struggle and cry and get super upset every single time — so much so with my first baby, that my aversion to forcing it on him had a lot to do with his not crawling until 10 months.
All babies are different, of course, but I think it's safe to say that baby Stormi seems to be loving her tummy time.