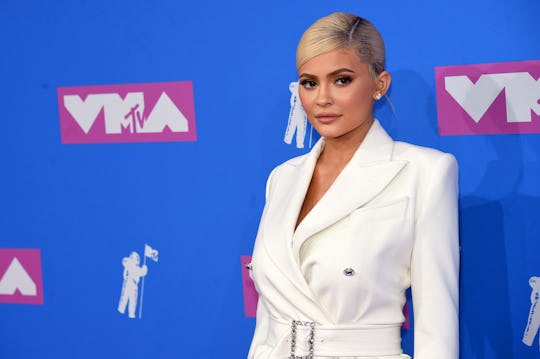 Jamie McCarthy/Getty Images Entertainment/Getty Images
Warning: Kylie Jenner's Video Of Stormi Dancing Might Make Your Ovaries Explode
I swear, I can't scroll for two seconds on Instagram or Facebook without seeing sweet babies and toddlers smiling back at me. And I have a feeling I'm not the only millennial whose social media feeds are bombarded with photos of adorable babies and children. (I mean, with the majority of us in our mid-30s and late-20s, it's bound to be a reality for most.) Not that this is necessarily a bad thing. Heck, I follow certain celebrities on Instagram and Twitter just for their cute kids and ultra-relatable parenting moments. So no judgement, here, to those who update their stories 10 times a day with baby photos. Bring on the cuteness! With that said, I'd like to warn you in advance: Kylie Jenner's video of Stormi dancing will give you a serious case of baby fever. So don't say I didn't warn you in advance.
On Friday, Sept. 7, Jenner took to Instagram with one purpose, and one purpose only: To make the ovaries of all her female followers (if they have them) collectively quiver with desire for a sweet ball of baby bliss of their own. That's because the 21-year-old mom shared a video clip of baby Stormi supporting her own weight while holding onto Jenner and bouncing — or "dancing," according to E! Online. "Love you so much it hurts 🖤," Jenner captioned her Instagram post. Those chunky thighs! All of that hair! The way she wraps her arms around her mama's neck! It's just all too much to handle.
Unsurprisingly, Jenner's Instagram followers didn't waste any time expressing their love for baby Stormi, either. Along with a field of heart and heart-eyed emojis, followers acknowledged the extent of the video's adorableness with actual words. One person commented, "Omg so cute 😭😍"
Another Instagram user wrote, "We love u Stormi😍😘"
Yet another confessed, "Those lil baby legs i am weak."
While another chimed in with, "Omg she's growing so fast."
As evident by Stormi's back being turned toward the camera, it seems Jenner is continuing to steer away from straight-on photos/videos of Stormi's face. The Lip Kit mogul has avoided showing her daughter's face since June, when she went through and purged all of the face-on photos of Stormi from her Instagram. When one follower asked about why she did this, Jenner replied, "Yeah I cut my baby out. I'm not sharing photos of my girl right now," according to People. Although Jenner has made some exceptions when it comes to photos of Stormi and herself appearing in the same shot together (see the photo, below) It's nice to see she's stuck by this for the most part — while still finding creative ways to share her motherhood journey with followers.
As HuffPost reported, Jenner welcomed her first child with boyfriend Travis Scott on Feb. 1 — following months of pregnancy rumors in relation her social media and real-life absence. So if my calculations are correct, that puts baby Stormi at just over 7 months old at this point. (Can you believe it? She's growing up so fast!) This stage was one of my favorites because at 7 months, my kiddos were able to sit up unassisted and play. They were also just starting to become t mobile via crawling — and would bounced around while standing (and supported) just like Stormi in Jenner's latest video. While it was tiring to chase them around, it was also nice not having to hold them all of the time anymore.
Currently, I'm 22 weeks pregnant with my fourth child. So seeing Stormi bopping around in Jenner's new video makes me that much more excited about experiencing this stage all over again. With thais being our last baby, I'm a little concerned about how baby-filled social media feeds will affect me a few years down the line. Will a part of me always long to snuggle a tiny human of my own again, even if I'm 100-percent certain I don't want to actually have another baby? Because if Jenner's video is giving my baby fever when I already have a baby on the way, then I'm in serious trouble.