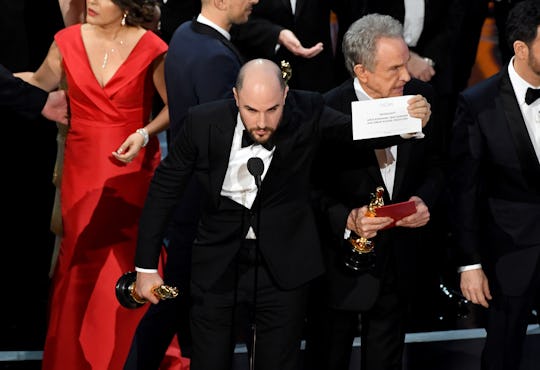 Kevin Winter/Getty Images Entertainment/Getty Images
'La La Land' Cast Responds To Losing Best Picture
In a stunning surprise end to the 2017 Oscars, Moonlight took home the award for Best Picture – after La La Land was initially announced as the winner. It was a confusing and exciting moment, but the La La Land cast response to losing Best Picture at the 2017 Oscars proved they were good sports about the mix up. After La La Land was announced as the winner, the cast and crew all made their way up to the stage to accept the award, but it quickly became clear something was amiss.
La La Land producer Fred Berger was the first to point out the mistake once he had been made aware by vaguely capping off the speeches with, "We lost, by the way." But producer Jordan Horowitz was quick to hand over the reins to the actual winner.
Horowitz announced the correct winner and then quickly pulled the card from Warren Beatty's hand to show it to the crowd. "I'm going to be really proud to hand this to my friends from Moonlight," he said before the La La Land crew evacuated the stage. The entire crew definitely seemed incredibly shocked, but they handled the news well and stepped aside once it was clear that they hadn't really won.
La La Land's lead actress Emma Stone (fresh off her win for Best Actress) was visibly shocked in the background, standing amongst her colleagues while the news broke over all of them. She also cleared up a little of the confusion following the mix up. It appeared that Beatty had been handed the wrong card; instead of a card that had the Best Picture winner on it, he had the Best Actress card in his hand. Confused by seeing Stone's name, he read out La La Land as the winner. However, according to Stone, she had the Best Actress card with her the entire time. So unless they printed two and handed them both out mistakenly, how the slip-up happened remains unclear.
However, Stone was also effusive in her love for Moonlight, calling it "one of the best films of all time." Though the situation unfurled in the most awkward way possible, the cast and crew of La La Land handled it with grace and weren't sore losers about having their win announced erroneously.
Despite their shock, they responded with respect for the real winner even though they obviously would have loved to win themselves.