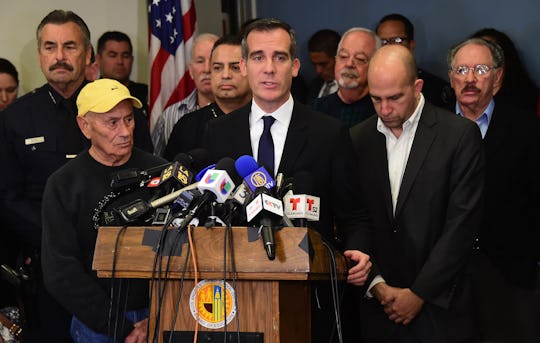 L.A. School Threat Likely A Hoax, Though It's Unclear Who's Behind The Terrifying Ruse
A House Intelligence Committee member said Tuesday that the Los Angeles school threat was likely a hoax, according to Business Insider. Tuesday morning a Los Angeles Unified School District official received an email threatening attacks with bombs and assault rifles, so Los Angeles School Superintendent Ramon Cortines acted out of an abundance of caution and closed all of the district's roughly 1,000 schools, according to Business Insider. It's still unclear who was behind the threat, though authorities believe the email was routed through Frankfurt, Germany, according to the Associated Press.
Rep. Adam Schiff, a Democrat from California said the threats to Los Angeles, New York City, and other schools around the country were meant to "disrupt school districts in large cities," according to the AP. Though the email was routed through Frankfurt, officials said it likely came from somewhere more local, according to Business Insider.
The email send to a LAUSD official mentioned bombs and assault weapons, according to NBC Chicago. LA schools Superintendent Ramon Cortines closed all schools, citing that student safety was his number one concern after the tragic attacks in San Bernardino left 14 people dead not even two weeks ago, according to the AP.
New York Mayor Bill de Blasio criticized LA's response, calling it a "significant overreaction," according to CBS New York. In a statement Tuesday, Cortines said he did not want to risk kids lives, even if the email was a hoax, according to NBC:
I am not taking a chance of bringing children into a place, into any part of a building, until I know that it's safe. I, as superintendent, am not going to take the chance with the life of a student.
Cortines and LAUSD police Chief Steven Zipperman said all of the campuses would be swept and schools would not reopen until they were clear, according to the AP. Los Angeles Mayor Eric Garcetti said he supported Cortines' decision, especially given southern California's heightened sense of anxiety since the San Bernardino attacks, according to Business Insider.
The email sent New York City schools said the writer and 138 of his or her comrades would attack all of the schools in New York and massacre the students "mercilessly," according to the AP. Though the AP said anonymous writer claimed to be a student who had been bullied, the New York Times said the email also made references to Islamic extremism. For example, one of the reasons New York officials believed the email was a hoax was because it spelled "Allah" with a lowercase "a," according to the Times.
Further, Stephen Davis, a spokesperson for the New York Police Department, said the emails were a "cut and paste job, according to the Times:
After an analysis, we have determined that the emails were the exact same wording with the exception of putting in the cities' names and changing the number of people who were supposed to be participating in it.
De Blasio is proud of his decision to keep kids in school, citing officials messages that hoaxes of this nature are meant to promote fear. "Our schools are safe. Kids should be in school today," de Blasio said, according to the Times. "We will be vigilant. But we are absolutely convinced our schools are safe."
It seems too harsh to say that Cortines shouldn't have taken the threat seriously, especially since California just suffered a terrorist attack. But the hoax does raise questions about what it means to react from fear when officials have a limited amount of information.
Image: Getty Images