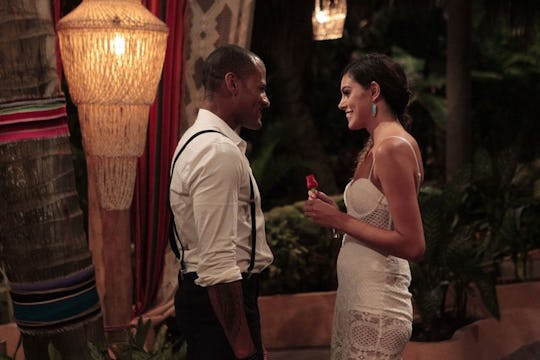 Rick Rowell/ABC
Lace & Grant From 'Bachelor In Paradise' Break Up, But They're Still On Good Terms
Bachelor in Paradise is a quick and fun way to bridge the gap between seasons of The Bachelor and The Bachelorette, but despite the rapid turnaround (filming lasts only a few weeks) it often had a better success rate than the shows that spawned it. The third season of BIP ended with a record three engagements, but not every couple has been able to make it work post-show. Things moved fast on the show and couples got serious quick, none more than Lace Morris and Grant Kemp, who ended the season engaged and with matching tattoos that proclaimed their couple portmanteau to the world: Grace. But now things have changed: Lace and Grant from Bachelor in Paradise broke up.
Lace and Grant had an intense but rocky relationship from the very first episode of Season 3. Though they connected instantly, Lace took a detour with Chad Johnson before finding her way back to Grant and remaining glued to his side for the rest of the season. Despite that dedication to each other, they were also prone to disagreements and uncertainty that made it seem like their relationship might not make it to the finale. They did finish the show together, getting engaged and moving in together in Grant's hometown of San Francisco, but just a few months later they decided to end their relationship.
According to a joint interview with Entertainment Tonight, Lace and Grant ended things mutually and there's no animosity between them. "We both have our issues we need to work on, and we can't really give each other what we need at this time," Lace says. "It's just not the right timing. We have so much love for each other, and it's weird because the chemistry is there, and I'm thinking, 'Why can't we make this work?' But it's just not possible right now."
Though both Lace and Grant say they have a lot of respect for each other, they felt their issues were getting worse over time instead of better. Lace refers to their increased arguing as a "cycle we couldn't break" and explains that breaking up was simply the best decision for them right now. The quick nature of their courtship also made the problems between them more apparent; in Grant's opinion, they "figured everything out now that it takes most people a couple years to figure out."
Lace and Grant don't seem entirely opposed to getting back together in the future, but for the moment it looks like staying separate is the healthiest choice for both of them.