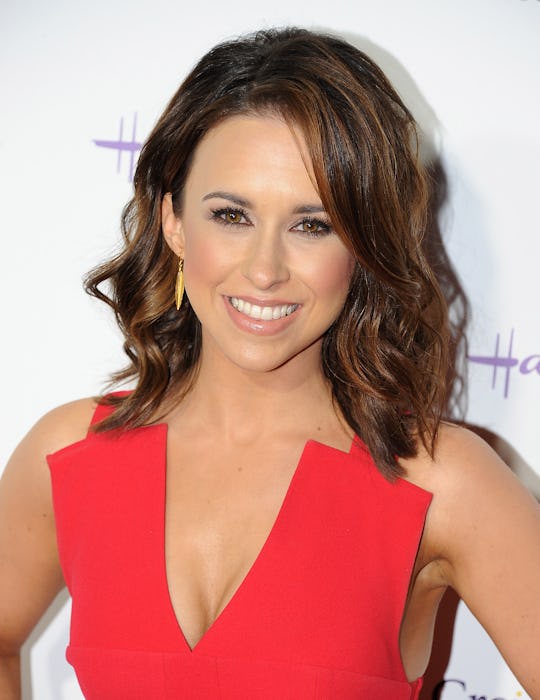 Angela Weiss/Getty Images Entertainment/Getty Images
Lacy Chabert Is Pregnant & 'Mean Girls' Fans Everywhere Could Not Be More Excited
Lacey Chabert, who will forever be known to us as Gretchen Wieners from Mean Girls, is pregnant. I repeat, Lacey Chabert is pregnant. Do you feel old yet? Because I certainly do.
Chabert, who is currently filming Acre in the Rye, and her husband, Dave Nehdar, are expecting their first child. Chabert chose to share the news of her pregnancy by outfitting her chihuahua, Kitty, in a shirt that says, "My mom is having a baby & all I get is this silly shirt." She captioned the snapshot with, "Kitty doesn't seem as excited as we are about this...I'm pregnant!!!! My husband and I are thrilled & so thankful."
Chabert and Nehdar have been married since January 2014, according to Hello Giggles, and we're stoked about the good news that Chabert, Nehdar, Kitty, and baby will now make an adorable family of four. Chabert's wedding was kept a secret from the media, and her husband still remains somewhat mysterious (he seems to shy away from media attention). Chabert was definitely happy about the nuptials, though, and rung in the new year in 2014 by letting her friends and fans in on the news. "I'm starting off 2014 as a Mrs!" she posted on Twitter, according to Us Weekly. "Over the holidays, my best friend & love of my life … we became husband & wife!" (I have to admit, I love the rhymes, Chabert — they're so fetch.)
Check out the incredibly cute picture Chabert posted on Twitter to announce the news:
Fans, of course, reacted with much excitement and many Mean Girls-style congratulations (admittedly, the jokes are hard to resist, but it doesn't mean we're any less happy for Chabert — her acting just lives on in the best way possible). Here's what a few fans had to say:
Seventh Heaven star Beverley Mitchell also chimed in on Twitter, writing, "One of my dearest friends is going to be a mommy! Congrats @IamLaceyChabert I couldn't be happier! love you so much!" Mitchell and her husband welcomed their second child just last year.
It seems that Chabert and her group of famous friends are all joining the millenial motherhood party, if they haven't already had kids. In fact, Chabert attended 8 Simple Rules star Amy Davidson's baby shower earlier this month.
Chabert hasn't announced how far along she is or the baby's gender, but we're wishing her the very best. It's been 12 years since Mean Girls came out, so it's great to see Chabert all grown up and flourishing.