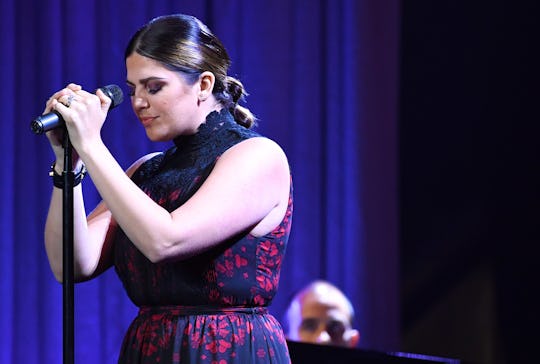 Jason Davis/Getty Images Entertainment/Getty Images
Lady Antebellum's Hillary Scott Reveals How Her Miscarriage Changed Her
It's a very common issue that's not often talked about, but on Monday morning, Lady Antebellum's Hillary Scott spoke about her miscarriage on Good Morning America, revealing how the ordeal changed the way she parents her daughter and how it affected her career. The singer will be touring with Lady Antebellum this summer, according to Us Weekly, but that's not all she has going on; she's also releasing a gospel album with her family; Love Remains will be released on July 29, and features mom Linda Davis, dad Lang Scott, and sister Rylee Scott, according to Rolling Stone.
The standout single of the album is "Thy Will," which Scott said was inspired by a miscarriage she experienced last fall. "This is something that is still not talked about very often," she said on Good Morning America. "I also feel like there's this pressure that you're just supposed to be able to snap your fingers and continue to walk through life like it never happened," the singer added, echoing the sentiments of too many women who have suffered a loss and then felt compelled to keep quiet about it, lest they bum people out. According to the March of Dimes, about 10 to 15 percent of known pregnancies end in miscarriage, but it's still considered a taboo subject by many.
But Scott is speaking openly about what she went through, and using her music to heal. She told GMA that the song was actually written during her miscarriage: "I wrote this song in the middle of experiencing everything that comes with a miscarriage, so it was at my most raw place that I could have ever been when this song truly poured out of me." The song's been an invaluable comfort to her fans already; comments on Scott's Instagram account thank her for writing the song, saying it helped them through not only miscarriages, but losses due to addiction and even malaria.
This wasn't the first pregnancy for Scott; she has a 2-year-old daughter, Eisele Kaye, with her husband Chris Tyrrell, who also serves as Lady Antebellum's drummer. Scott told GMA that her miscarriage changed the way she parents Eisele: "I'm a different mom to her now. I hug her a lot tighter." Very relatable. It's great to hear a celebrity open up about about something that happens to so many women, yet is so rarely spoken about. Nothing can take away the pain of such a loss, but a woman knowing she's not alone is powerful.