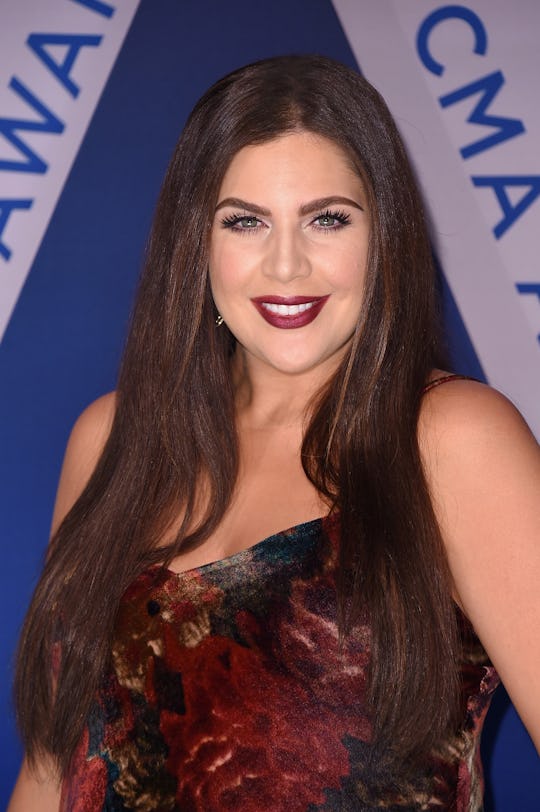 Michael Loccisano/Getty Images Entertainment/Getty Images
Lady Antebellum's Hillary Scott Welcomes Twins, & Fans Are Overjoyed For Her
It seems like congratulations are in order! Lady Antebellum's Hillary Scott welcomed twins on Monday, the country singer shared Tuesday on social media, and her growing family could not be happier. The new additions are two baby girls, and they'll be joining older sister Eisele Kaye, 4, back at home.
Scott and her husband, Chris Tyrrell, have yet to share the new arrivals' names, and the picture Scott posted to Instagram simply shows two tiny toques labelled "A" and "B." (How cute is that, though?) Captioning the picture, Scott thanked everyone for their well wishes and shared a bit more information, writing:
Our family is thankful and proud to announce the arrival of our precious baby girls. They were born in the early hours of January 29th, 2018 and we can't wait to share more about them in the days to come. Thank you to everyone who prayed and prayed for these little ladies, and thank you Lord for healthy babies.
Scott first shared the news that she was expecting twins back in August, and throughout her pregnancy, she updated fans, letting them know in an adorable post that she was carrying two little girls. "Eisele is so excited to have her very own living baby dolls," Scott captioned an Instagram photo of three tutus in September.
The birth came the day after Scott's Lady Antebellum bandmates attended the Grammys without her. Charles Kelley and Dave Haywood took to the red carpet with a cardboard cut-out of Scott, with Haywood telling People:
Our girl's back at home. She's due any second with twin girls. Couldn't be more happy for her, but we miss her. We feel so weird without her on the red carpet.
However, the two bandmates were overjoyed to be welcoming more kids into the extended Lady Antebellum family — especially since Haywood just welcomed a baby himself in December. "There's a lot of kids in our world right now," Kelley told People. He then told Billboard, according to People: "Put them all on the same bus together — that way, we'll get some sleep."
Fans were quick to congratulate Scott on social media. "My heart is just so happy it might explode," one fan wrote on Twitter, while another offered to babysit.
Longtime fans of the country singer were familiar with Scott's journey in growing her family. After welcoming Eisele in 2013, Scott suffered a miscarriage in 2015, which she eventually opened up to fans about. "This is something that is still not talked about very often," she told Good Morning America the following year, according to Country Living. "I also feel like there's this pressure to be able to snap your fingers and continue to walk through life like it never happened."
Scott addressed the miscarriage when she announced her pregnancy with twins last year, as well. "My heart still grieves for our loss and all who are struggling with pregnancy and infant loss and infertility," she wrote on Instagram. "God hears every prayer and I will continue to share our story to point to the Source of all life, peace and comfort in the best and most difficult of times. Don't lose hope!"
Welcoming two baby girls is clearly a lovely way for Scott, Tyrrell, and Eisele to start the new year, and fans can't wait to learn more once the two girls are home and settled in. Here's to hoping fans get to learn the names (and maybe even see a picture or two) of the new additions soon — but in the meantime, everyone just seems content to see Scott and her growing family happy.