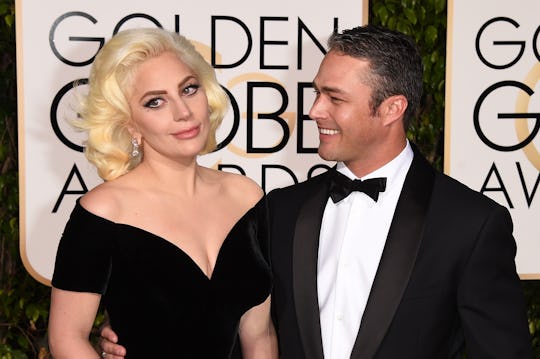 Jason Merritt/Getty Images
Lady Gaga Brushing Leonardo DiCaprio Away While Accepting Her Golden Globe Is Everything
We all knew Lady Gaga was a queen, but this GIF of Gaga brushing past Leonardo DiCaprio on her way to accept her Golden Globe award is just proof. DiCaprio doesn't seem sad that he hasn't claimed an award yet. He actually seems more scared of Gaga than anything else, to be honest. And I'm willing to bet it's the GIF that will long outlast any other happenings at the Golden Globes tonight. Because let's be honest — we've all been DiCaprio, frightened out of a laugh. And we've also been Gaga, pulling off the perfect brush-by.
I have no idea if the two have pre-existing beef. This is probably just a case of a queen sweeping by to pick up her crown, and DiCaprio being in the wrong place at the wrong time (cue him scooting his chair forwards in the future). Gaga was on her way to receive her award for Best Actress in a Limited Series or TV Movie for her role in American Horror Story: Hotel. DiCaprio, giggling in his seat over something, was there for his 11th Golden Globe nominations (he's had two wins in the past).
Let me just slow that down for you:
Whatever happened to cause this moment, I'm grateful for it, because it was easily the best thing to have happened at the Golden Globes. Lady Gaga is just as dramatic and majestic as ever, and Leonardo DiCaprio remains as cute and charming as always. I'll be using this GIF every time I'm in trouble from here on out.
Image: Jason Merritt/Getty Images Entertainment