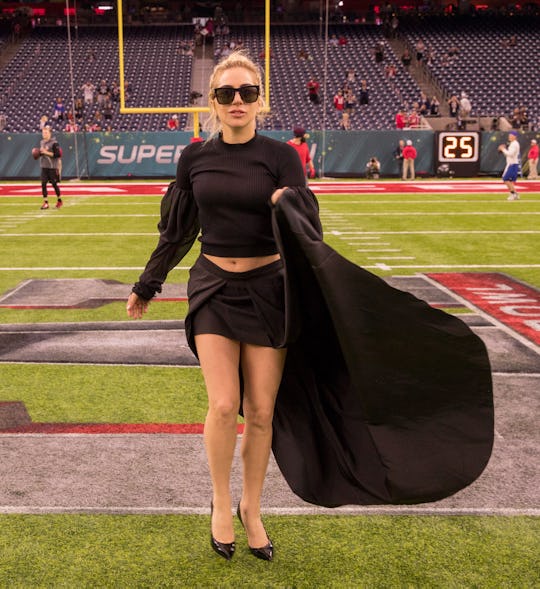 Christopher Polk/Getty Images Entertainment/Getty Images
Best Lady Gaga Concert Tweets During Super Bowl
Lady Gaga has been preparing us for weeks for her much-anticipated halftime performance at this year's Super Bowl, and she kept that excitement going up until the moment she took the stage on Sunday night. But to show just how much excitement there was, we have these hilariously accurate Lady Gaga concert tweets during Super Bowl LI that show viewers could barely wait until halftime and we're totally impressed when she finally took the stage.
Fans weren't sure what to expect. Mother Monster kept many of the plans for her show under wraps. "We went through my whole career and we chose songs that we hope that both the football fans and the people who are just tuning in for the halftime show will enjoy," Lady Gaga said during a press conference before Sunday, according to Entertainment Weekly. "There's some exciting stuff."
Lady Gaga did answer one lingering question: "I will tell you that there will be no meat dress there, so don't wait for that," she added during the same press conference and followed through on that statement on Sunday night.
There was a lot up in the air. There was the mystery of what songs she'd perform, what over-the-top fashion choices she would make, or if things might get a little political during her halftime performance. (Spoiler: She didn't make an explicit political statement during her performance.)
So, obviously, for most people, the excitement was just too much to contain.
"This performance is for everyone. I want to more than anything to create a moment that people will never forget," she said during the same press conference. "Not for me, but for themselves. That's what I remember about great Super Bowl performances in the past, when you really get lost in the moment with your family."
The 30-year-old pop star delivered a memorable performance when she belted classics like "Just Dance" and "Bad Romance" and sang a her own rendition of "God Bless America" and "This Land Is Your Land."
According to Forbes, last year's halftime show brought in 3.9 million tweets all in all in the 23-minute time period. Tweets from Super Bowl 51 are still rolling in, but let's have a look at some of the best that show how epic Lady Gaga's halftime performance really was.
Celebrities chimed in too:
All of these months of excitement did not disappoint. And if we've learned anything from Lady Gaga's style on stage, it'd be hard to expect anything less than the best.