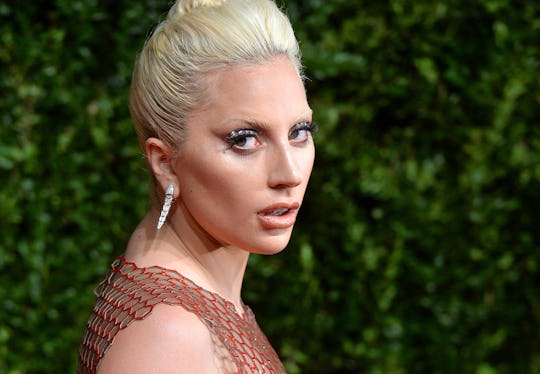 Lady Gaga Looks Forward To Turning 30, Changing The Narrative Of Women & Aging For The Better
When Lady Gaga turns 30 in March, you better expect she'll be throwing herself a party, and it will not be a pity party. Billboard's "Woman of the Year," Lady Gaga is excited to turn 30, sending the message to her legion "little monsters," aka fans, that for a woman to age is a powerful life experience that should not be denigrated by Hollywood or anyone else. "I'm really excited about showing girls, and even men, what it can mean to be a woman in her 30s. Why is it that we're disposing of people once they pass that mark?" she mused in her Billboard Interview. Why indeed? As actress Olivia Munn, now 35, told Glamour five years ago, "I think women should embrace their age. What's the alternative to getting older? You die."
I always come back to that quote when I'm feeling a little less spry than usual. And how inspiring is it that the Queen of Pop herself thinks the very same thing?! In the Billboard interview, Lady Gaga challenged what "old" even means. "I'm not f**king old. I'm more sexual and powerful and intelligent and on my s**t than I've ever been."
It's a refreshing change to hear a woman known very much for her appearance (in addition to her talent and dedication to social causes, especially her advocacy of LGBT youth) say that she's embracing the aging process rather than "fighting it every step of they way" or however that miracle cream slogan that magically erases wrinkles goes. Her collaborations with Tony Bennett and Julie Andrews are evidence of her respect for and interest in musicians and performers who are well into their years.
Gaga continued, "I want to show women they don't need to try to keep up with the 19-year-olds and the 21-year-olds in order to have a hit." Echoing her familiar message of self-acceptance, Gaga offered advice on how to age in a business (and culture at-large might I add) that equates success and glory with youth. She emphasized the importance of holding onto herself, especially in light of pressure she said she felt to market youthfulness in order to stay relevant.
Women in music, they feel like they need to f**king sell everything to be a star. It's so sad. I want to explode as I go into my 30s.
Lady Gaga's thoughts on turning 30 comes on the heels of Angelina Jolie's interview to Vogue in September where Jolie said she looked forward to turning 50. The 40-year-old award-winning actress turned director, and writer, not to mention mom and activist, isn't afraid of aging. In fact, given her genetic history, aging feels like a victory.
I feel grounded as a woman. I know others do too. Both of the women in my family, my mother and my grandmother started dying in their 40s. I'm 40. I can't wait to hit 50 and know I made it.
Between Angelina Jolie and Lady Gaga embracing their age, not to mention older actresses like Helen Miren and Jane Fonda slaying it on screen, maybe Hollywood (and culture at-large) will start to value age more. That might in turn help women everywhere focus less on their fleeting youth and more on being exactly who they are at any age.
Images: AnthonGiphy (3)