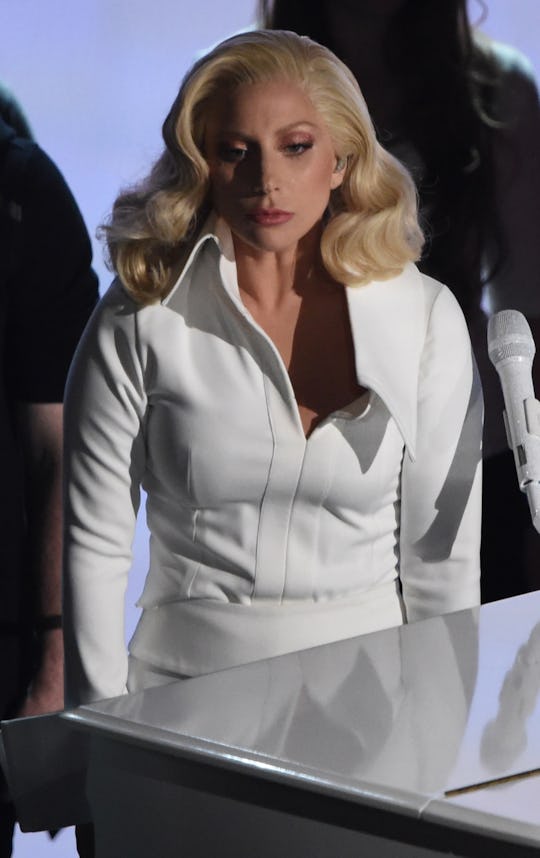 MARK RALSTON/AFP/Getty Images
Lady Gaga Snubbed For Oscar By A Song From A Bond Movie, & That Says A Lot
After giving perhaps one of the most important Oscars musical performances ever, Lady Gaga was snubbed for an Oscar that many assumed she would take home on Sunday night. The loss wouldn't be so awful if it wasn't for the fact that she lost to "The Writing's On The Wall," the theme from the James Bond movie, Spectre. Lady Gaga was nominated for Best Original Song along with Diane Warren for their song, "'Til It Happened To You" from the documentary The Hunting Ground. Despite the controversy surrounding the documentary itself, there's no denying the importance of the subject of campus sexual assault.
Just minutes after being introduced by Vice President Joe Biden — who urged Oscars viewers to take the pledge to help stop sexual assault — and taking the stage with dozens of actual sexual assault survivors, Lady Gaga totally got snubbed in the worst possible way. Despite Oscar-winner Sam Smith raising awareness for LGBT rights during his acceptance speech, it's pretty messed up when the song about empowering rape survivors loses to a James Bond theme song because of, well, you know, the James Bond movie franchise in general; It's not exactly the paragon of women's empowerment in film. When you take a step back, beyond just loyal Lady Gaga fandom, it could easily be seen as a really pretty tasteless move on the part of the Academy.
Lady Gaga's performance moved much of the audience to tears as it appeared she poured her own personal experience with rape into her music, then joined arms in solidarity with fellow rape survivors who came out on the stage at the conclusion of her song:
The loss was deeply felt on the Internet, many calling out Lady Gaga's snub on Twitter. Perhaps one of the most moving responses to the loss was from fellow singer Kesha, who's been embroiled in a complicated legal battle with Dr. Luke over allegations that he raped her 10 years ago:
Earlier on Sunday, Lady Gaga dedicated her Oscars performance to Kesha:
We do have to give major kudos to the Academy for doling out wins to films like A Girl in the River for Best Documentary Short, which tackles the subject of Pakistani honor killings of women and girls, and Spotlight for Best Picture, a dramatization of The Boston Globe's investigation into child sex abuse in the Catholic Church. But the awkward juxtaposition where the Vice President of the United States puts out a call to end sexual assault when introducing Lady Gaga and then having a James Bond theme take the Oscar just minutes afterward... It felt like rubbing salt into the wound of rape culture.
We'll take our Oscar wins for A Girl in the River and Spotlight for bringing awareness to some forms of abuse, but we aren't going to forget anytime soon how Lady Gaga — and all the sexual assault survivors she represented on Sunday — were robbed.