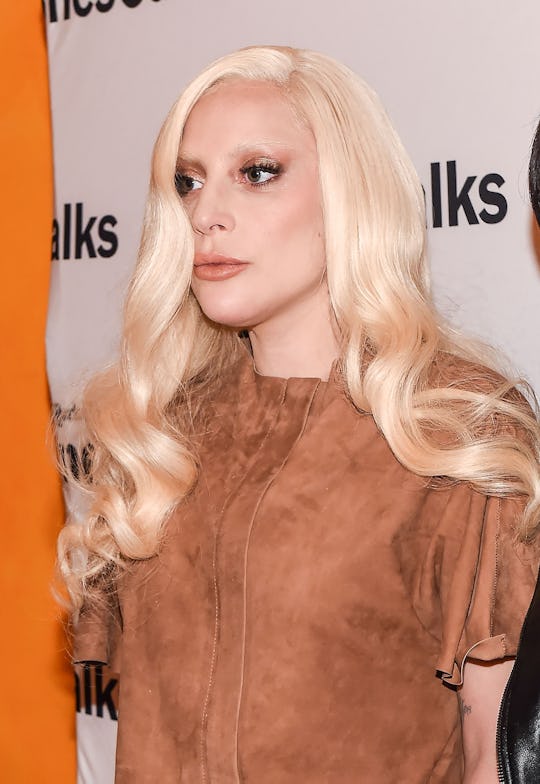 Getty Images
Lady Gaga Talks About Being Raped When She Was A Teen & Her Words Are All Too Relatable For Victims
While promoting her film The Hunting Ground, a documentary about on-campus rape, Lady Gaga talked about being sexually assaulted and how it changed her entire life. She was raped when she was a teenager and at a Times Talk in New York City on Thursday, she elaborated on the physical and psychological effects the attack had on her. She admitted that she didn't know how to talk about her rape:
I didn't tell anyone for, I think, seven years. I didn't know how to think about it. I didn't know how to accept it. I didn't know how not to blame myself, or think it was my fault. It was something that really changed my life. It changed who I was completely.
She even admitted that, like most women, she felt it was her own fault, because she dressed provocatively or something about her personality. Her new film, the accompanying ballad called 'Til It Happens To You, as well as her non-profit for victims of sexual abuse are all good steps toward getting rid of that kind of stigma. But Gaga knows the only real way to move on and help others come forward for help is to just use your words. She said at the panel discussion that you have to emotionally purge before you can get better:
We don't want you to keep your pain inside and let it rot like an old apple on your counter, you know? It's like, just get rid of all that trash. Let's get rid of it together.
If you had to say one thing about Lady Gaga, that woman has a lot of guts. She always speaks her mind and does not care what other people are thinking or saying about her. And she tries to make sure others are doing the same thing. Because really, that's the only way to make it sometimes.
Image: Daniel Zuchnik/Getty Images; Giphy (2); LadyGaga/Instagram