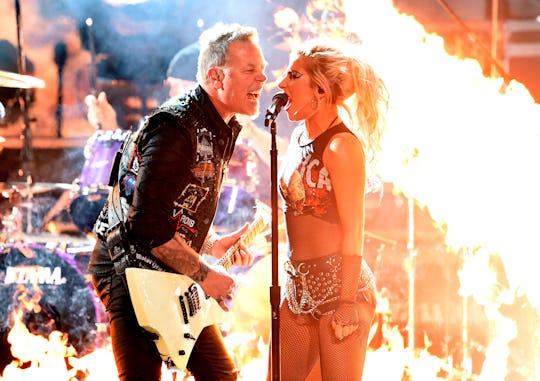 Kevin Winter/Getty Images Entertainment/Getty Images
Lady Gaga's Grammys Performance Was On Fire
Lady Gaga is known for her exciting (and often artistically bizarre) performances, so when she's set to sing at an award show, fans know there will likely be something special in store. Following the massive success of her Super Bowl halftime show, Gaga's fans were definitely eager to see just what she would do at the 2017 Grammys. Her Super Bowl performance contained everything that makes Lady Gaga great: her best hits, her sense of spectacle, and her fantastic vocals. Her Grammy performances are usually similarly notable, including last year's tribute to David Bowie. And on Sunday night, Lady Gaga's 2017 Grammys Performance did not fail to deliver – though she and her fellow performers, Metallica, encountered a few difficulties as well.
At least one of the mics appeared to be malfunctioning during the performance, or might have been out entirely. That didn't dull the enthusiasm, however, as Lady Gaga and Metallica continued to rock out as hard as possible. It was near impossible to hear them, but despite the trouble, everyone on stage seemed to be having the time of their lives. Lady Gaga even flung herself into the audience to crowd-surf at one point. The entire group seemed to be relishing in the music; Like true professionals, they pushed past the technical difficulties.
Though Lady Gaga wasn't nominated for a Grammy this year (her most recent album, Joanne, wasn't eligible because it was released just past the cut-off date), the award show has always been a chance for her to show off her skills. She has won six Grammys herself out of 17 nominations over the years, and she never misses a chance to take to the stage. This time it was alongside Metallica, a seemingly odd pairing that nevertheless produced some fascinating results.
Before the show, Metallica announced the collaboration on their website, promising that it would be a unique and special performance of which they were "beyond excited" to be a part. "It's been three years since we were lucky enough to participate in the awards show when we last performed with world-renowned Chinese concert pianist Lang Lang and we're thrilled to be asked back," they wrote.
While Metallica and Lady Gaga may have seemed like a mismatched pairing at first glance, Gaga has actually been a professed "metal dudette" for years. In a Reddit AMA from a couple of years ago, she professed her love for Metallica, as well as bands like Iron Maiden, Black Sabbath, AC/DC, and Judas Priest. Performing with one of her favorite bands was likely a huge honor for Gaga, who said on her Instagram the day of the Grammys that she planned to "listen to Metallica all day and party with my friends" in preparation for the performance.
They may have suffered a setback, but Lady Gaga and Metallica still owned the stage.