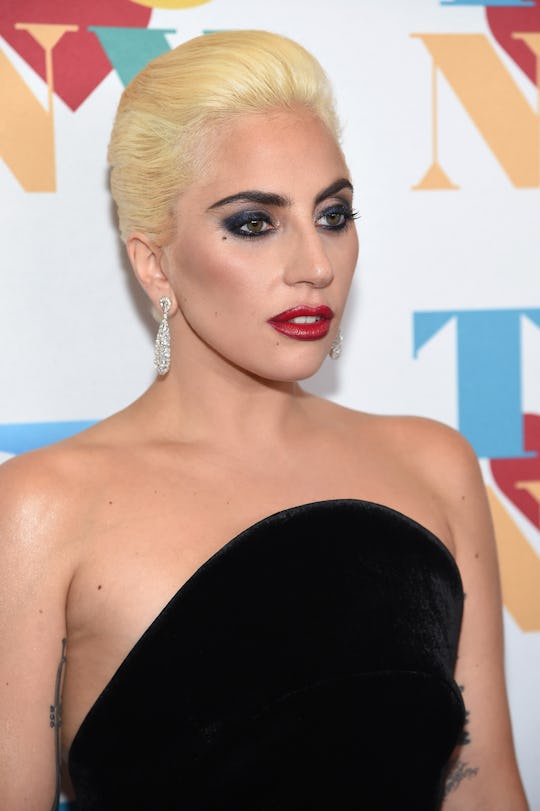 Jamie McCarthy/Getty Images Entertainment/Getty Images
Lady Gaga's AMAs Performance Proves She's Still Got It
Lady Gaga's first nationally televised performance post-Joanne release was on SNL earlier this season, but she made her first awards show appearance with music off her new album at the 2016 American Music Awards on Sunday, Nov. 20. Lady Gaga's AMAs performance was among the most anticipated of the night. While the album itself won't be eligible for nominations until next year, Gaga is a veteran of the AMAs. She's a nine-time nominee who won 2010 AMAs' Favorite Female Artist award in the pop/rock category. She's also performed twice before — once in 2009 with a "Bad Romance/Speechless" medley, and once in 2013 with R. Kelly for their single "Do What U Want."
Joanne dropped this past October, and ever since, Lady Gaga has been making pink-cowboy-hatted appearances everywhere from Carpool Karaoke to her 3-date "dive bar tour," which was sponsored by Bud Light and heavily advertised during the World Series. Given the stripped down style of this album, in comparison to her dance pop albums, Gaga's AMA performance followed suit, with a low-key emotional performance instead of the over-the-top costumes and spectacle of yore. But there will be plenty of opportunity for her to make up for that at the 2017 Super Bowl Halftime Show, which she's also headlining.
When she took the stage at the AMAs, styled with tall grass and a starry night sky backdrop, Lady Gaga never even left her stool, on which she sat barefoot, accompanying herself on electric guitar for a performance of her single "Million Reasons." What she lacked in special effects, she made up for in raw talent. Gaga sounded great and her costume was much more subdued than her wardrobe choice for the red carpet. Twitter quickly noticed that it was super easy to spot Lady Gaga in the audience at the awards show.
Plenty of people speculated that Lady Gaga's white pantsuit was a subtle nod to Hillary Clinton, since the artist spent time campaigning for her and was present at Clinton's Javitz Center campaign party on election night. One of the displays of support for the potential first female president shown on election day was to head to the polls wearing "suffragette white." And the pantsuit correlation is obvious.
Gaga refrained from making any more overt political statements during her performance, but, honestly, her work was more than strong enough to stand on its own. And shaking up the Super Bowl with a surprise political statement is much more her style, anyway.