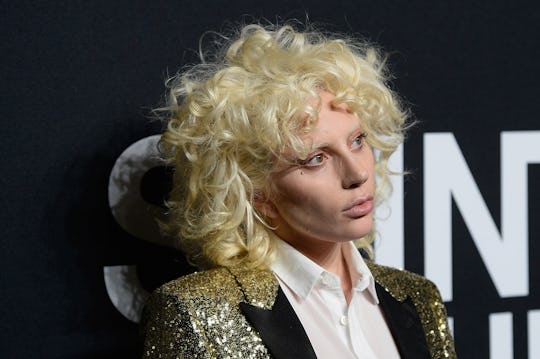 Kevork Djansezian/Getty Images
Lady Gaga's David Bowie Instagram Tribute Pre-Grammys Is A Peek At What's To Come
Before the 58th Grammy Awards, Lady Gaga paid tribute to the late David Bowie with a series of Instagram posts — and with a sneak peek at her actual "Life On Mars"-inspired look for the night. Best of all, Lady Gaga's David Bowie Instagram tributes won't just stay on social media: She is set to perform a lengthy "history" of Bowie's best during the show.
Before the show on Monday, National Academy of Recording Arts and Sciences president Neil Portnoy told E! News that Lady Gaga's Bowie tribute during the Grammys would be one of the "longest, larger segments of the night." He added, "She will take us through quite a bit of history of David Bowie's repertoire." The harder part was probably just narrowing down what songs to include: Bowie had platinum hits in every decade of his long career.
It also seems Lady Gaga wasn't just a random choice to pay tribute to Bowie. She may very well be one is his biggest mega fans — and even just got a tattoo of Bowie as Ziggy Stardust. She said of the new ink on Snapchat, "This was the image that changed my life."
Based on her Instagram posts, Lady Gaga prepared for her Grammys performance by channeling Bowie's spirit with some epic makeup.
Gaga's performance — from her makeup to her dance moves to the impressive range of her voice — was a beautiful tribute to Bowie's contributions to music, fashion, and performance.