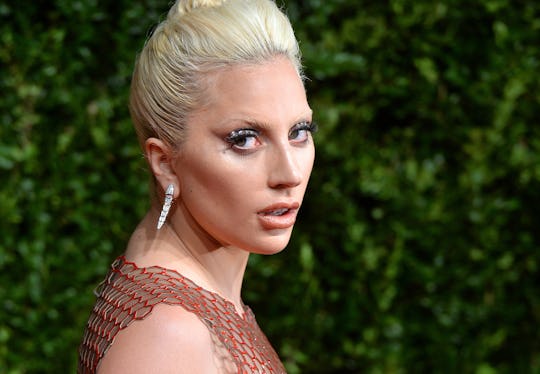 Lady Gaga's Golden Globe Nomination Made A Lot Of Little Monsters Very Happy
Most of us are most familiar with Lady Gaga's singing prowess, but this morning when Lady Gaga was nominated for a Golden Globe for her performance on American Horror Story:Hotel, fans took note: Lady Gaga can do it all. Gaga is up against fellow powerhouses Kirsten Dunst (Fargo), Sarah Hay (Flesh and Bone), Felicity Huffman (American Crime), and the queen herself, Queen Latifah (Bessie) for the Best Actress, Mini-Series or TV Movie award. The show, which takes place a month from now on January 10, will feature all of the most celebrated and up-and-coming actors, actresses, TVs, and films we've loved from the past year, and seeing Gaga's name amongst the ranks not only proves her acting chops, but it proves just how much of a force Mother Monster truly is.
Regardless of whether or not you're a fan of Gaga's work, there's no denying just how much she's done for her fans, women, and the LGBT community. Her songs have sparked national conversation, made her fans experiences feel heard, seen, and important, and she's gone above and beyond to ensure that her work is leaving an impression on the lives it touches — a mark that's measured in good deeds, not in lavish cars or fancy houses (though if she has those, that's great too).
Shortly after the initial Golden Globes nominees were announced, Gaga's Little Monsters came out in full force — both long-time fans and new fans who've found her through the AHS: Hotel show. With so much going on in the actress's life (she's engaged to Taylor Kinney!), the news of her nomination could not come at a better (or more exciting) time. Praise for AHS: Hotel has been through the roof, and seeing Gaga alongside long-time favorite Matt Bomer has been pure TV excellence.
Gaga's fans' messages have been ones of sheer pride; they're so thankful that the character they've loved watching on the show is getting the recognition she deserves from the Hollywood Foreign Press Association. Though we'll have to wait a full month to see which actress takes home the coveted award — the show takes places January 10 — there's no denying which side of the coin the Little Monsters fall on.
See for yourself:
Image: Anthony Harvey/Getty Images