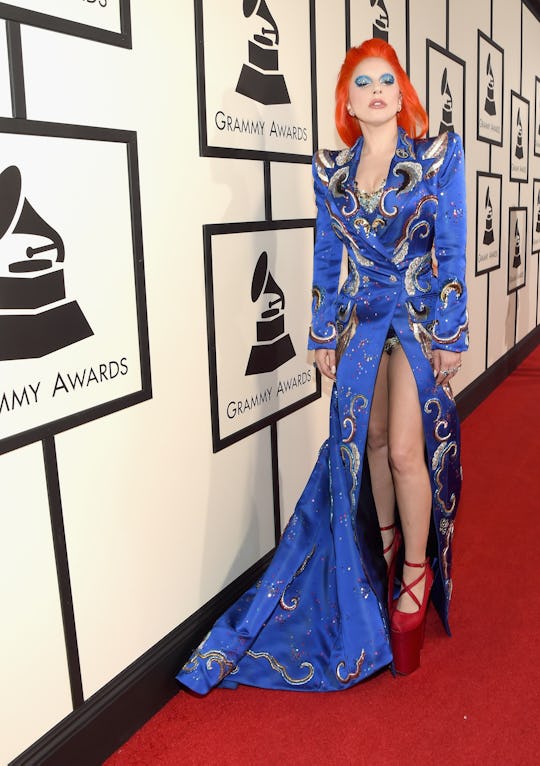 Larry Busacca/Getty Images for NARAS
Lady Gaga's Grammys Dress Looks Exactly Like David Bowie's "Life On Mars" Look
She waited until the final seconds to show up on the Grammys red carpet, but Lady Gaga's arrival will go down as one of the most important in modern history (at least as far as music — and me — are concerned). Lady Gaga's Grammys dress looks exactly like David Bowie's "Life On Mars" and it's a beautiful salute to the star she'll later memorialize on the show with a rumored 15-minute tribute. Though Mother Monster and Ziggy Stardust never had the chance to meet in real life, his influence on her music, her creativity, and her artist persona are tangible. I don't even know Lady Gaga like that, but I can just feel all the ways that Gaga loved Bowie, and that realization makes my heart hurt all over again. Though his importance to music and to all of us was immediately clear when the world lost Bowie, sometimes it makes it all the more real to see our favorite stars in clear mourning as well.
Gaga's outfit choice is marks the latest in a slew of tributes she's made in public to the late star. She recently got a tattoo on her ribcage and just a few weeks ago, Gaga paid tribute to Bowie's influence at the Super Bowl when she sang the National Anthem in front of thousands of fans (and even more watching at home).
See for yourself:
And again:
One more time:
And here's Bowie's iconic "Life on Mars":
Bowie was not just a beloved national treasure because of his music (though that was very much the case as well). He was a pioneer for so many communities. He showed that our cultural ideologies surrounding sexuality, creativity, passion, and gender identity were fluid and constantly changing. He gave us all freedom to be not just one thing, but many things. And he helped us all realize the freedom in no longer trying to shape ourselves to fit into society's mold. He as an advocate, an ally, and a reminder that you could be anyone you wanted and anyone you believed, and it didn't matter if society told you that could not be, because hell, you said it could, and that was enough.
Honestly, there is no better artist, in my opinion, to honor Bowie's influence and important to the industry and to our cultural ideologies. Gaga has very much used her power and influence toward the betterment of people's lives, and if there is anyone who knows, appreciates, and understands the value in that, it's Mother Monster.