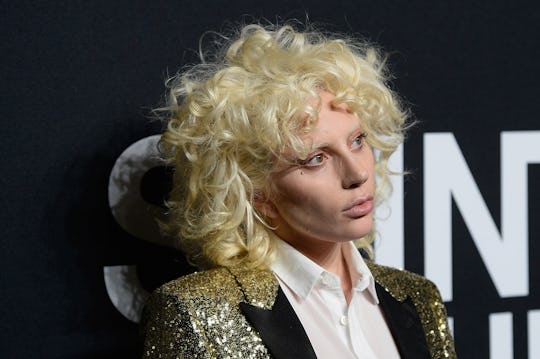 Kevork Djansezian/Getty Images
Lady Gaga's Grammys Make-Up Channels David Bowie's 'Life On Mars' & Gets Everyone Excited For Her Big Performance
Our favorite Fame Monster singer will be performing a David Bowie tribute at the Grammys tonight, and Lady Gaga's make-up is channeling David Bowie's "Life on Mars" perfectly. She shared an Instagram video of her make-up artists working their magic pre-Grammys, where they used bright blue eyeshadow to replicate David Bowie's make-up beautifully. Lady Gaga shed a tear during the video, which was captioned, "The world loves you David."
Gaga didn't stop at make-up, either. In a Snapchat image, Lady Gaga showed off a new tattoo, inked on the ribs above her left hip: David Bowie's face, as captured on his Aladdin Sane album cover. Though her Snapchat image was black and white, the cover shows Bowie with eyes closed, a red and blue lightning bolt striking down his face. It's an iconic Bowie image, and a good choice for Gaga to commemorate her love for Bowie with.
David Bowie passed away on Jan. 10 at age 69, after battling cancer. According to E!, Lady Gaga's tribute to the late singer will be one of the longest performances at the Grammys tonight. "She will take us through quite a bit of history of David Bowie's repertoire," said Neil Portnoy, National Academy of Recording Arts and Sciences president. "It's one of the longest, larger segments of the night."
Watch her transform pre-Grammys:
Gaga said it best: we love you, David.