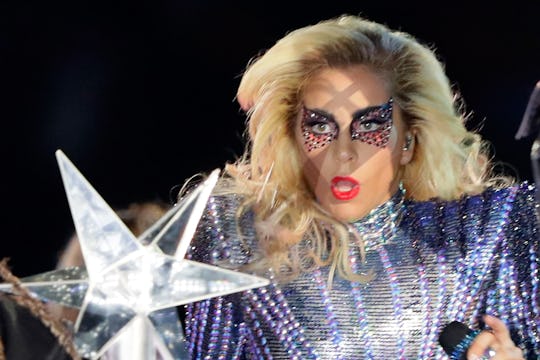 Jamie Squire/Getty Images Sport/Getty Images
Lady Gaga's Super Bowl Fashion Was So Very Gaga
When it was announced that Lady Gaga would be performing the halftime show at the 2017 Super Bowl, it was easy to predict that she would be making a statement, both sartorially and politically. And she did not disappoint. Lady Gaga's Super Bowl fashion was so over-the-top in the best way possible and surprising that we all should have expected it. In an interview with The New York Times before the performance, Gaga promised, "The only statements that I'll be making during the halftime show are the ones that I've been consistently making throughout my career."
That would be her message of inclusivity, diversity, and of course, wear whatever the hell you want as long as you love it. Lady Gaga has never had a fashion mishap, because Gaga does not believe in them. If Gaga accidentally experienced a nip slip during the show, she would probably just roll with it. And really, that's one of the many reasons she's so great. So of course, she came straight outta the gate in a bedazzled, heavily shoulder-padded body suit and matching boots to literally descend on the crowd, hereby reminding us all why we're really watching the Super Bowl right now.
But of course, it got better because Gaga always gets better. After starting the performance with "Poker Face" because don't we all really want it to be 2008 again more or less secretly? Gaga then let her hair down and upped the ante by throwing on a gold, impossibly bedazzled bomber jacket for her short performance of "Just Dance." After that she took on an incredible, emotional performance of "Born This Way," which is possibly the world's most famous and powerful LGBT anthem ever made. Our so-called "liberal agenda" may have just taken over the Super Bowl and I am so here for it.
This is basically as toned down as Gaga really gets. For "Bad Romance" she changed into a Gaga version of a football uniform, which consisted of a shoulder-pad crop top and hot pants. I would like to know where Gaga got those hot pants because I think I need them in my life.
I had honestly almost forgotten how much I truly adore Lady Gaga until this performance, in which she reinforced her incredible talent for performing that I've been missing for some time. The performance also included a veritable army of back up dancers, who looked almost just as incredible as she did. Less sparkles, but more diversity, and incredible matching costumes. Why can't the Super Bowl just be a Gaga concert instead, honestly?