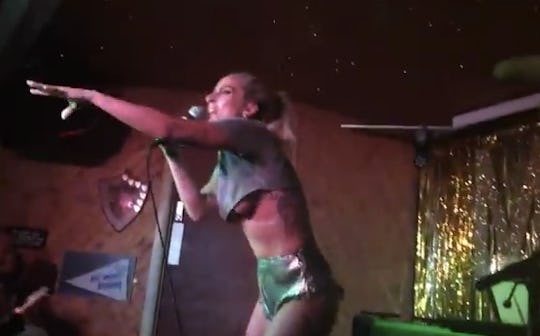 HausOfJosie/YouTube
Lady Gaga's Surprise "Perfect Illusion" Performance Shows Just Why We Missed Her
You know how when you see an old friend for the first time in ages and you realize halfway through the conversation just how much you missed them? That's exactly the feeling you'll probably have watching Lady Gaga's surprise "Perfect Illusion" performance in a London club. She's still got it, and although her stint with Tony Bennett was alright, her new single is classic Gaga.
She hopped on the stage at the Moth Club in London in the very wee hours of the morning and it was absolutely perfect — if I knew there was a chance of Gaga showing up to do her new disco-y single for free, I would probably be more inclined to go on Friday nights. It's also nice to have edgy Lady Gaga back, as she performed in tight sparkly shorts and a crop top that showed a little underboob. The queen of pop and risky fashion choices is really back and it feels so good.
Gaga wasn't just promoting her new single, she also hopped on the piano and did a version of "Bad Romance" that had everyone singing along. And it's a good thing they did: at one point Lady Gaga joked with the crowd, "I didn't even remember the words." Always humble.
In interviews, Gaga has said that the lyrics to the song are about social media, but many fans aren't buying that. Since she just split with her fiancé Taylor Kinney earlier this year. Gaga said on Instagram this summer though that their break up was amicable. "Taylor and I have always believed we are soulmates. Just like all couples we have ups and downs, and we have been taking a break," she captioned a photo.
She added, "We are both ambitious artists, hoping to work through long-distance and complicated schedules to continue the simple love we have always shared. Please root us on. We're just like everybody else and we really love each other." So the sort of cynical lyrics about love in the new single don't really match up with her feelings for him.
That doesn't mean it's not catchy. You only have to hear the song once to start belting out "it wasn't love," over and over in your head. You can never un-hear a Lady Gaga song, which is a good thing. The whole new album is probably going to be the same way. Gaga confirmed that there are some really legit appearances on the album, including Father John Misty, Beck, and a duet with Florence Welch. it will probably be pretty epic, even if we have to wait a bit for the full album. Until then, "Perfect Illusion" will have to do.