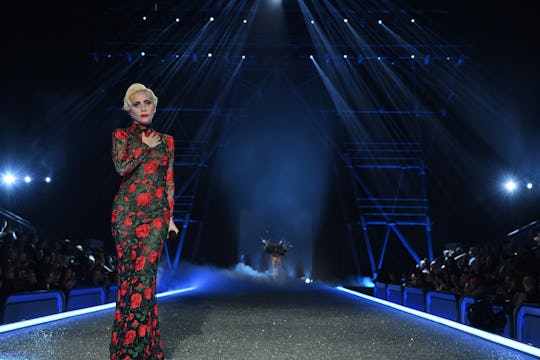 Dimitrios Kambouris/Getty Images Entertainment/Getty Images
Lady Gaga's Victoria's Secret Fashion Show Performance Was Worthy Of Angel Wings — VIDEO
The Victoria's Secret Angels aren't the only ones closing 2016 out in a major way. Lady Gaga, who's having a year of her own if I've ever seen one, took the stage at the Parisian-based runway show this year and gave fans in the audience and all over the globe reason to remember just why she's Mother Monster. Taking the stage for a heartbreaking rendition of "Million Reasons," Lady Gaga's Victoria Secret Fashion Show performance was an breathtaking reminder of the raw talent Gaga possesses, not just as an artist and entertainer, but also as a woman. According to Mic.com, Gaga's stunning sheer lace gown, which featured rose detailing throughout, was a Yolan Cris SS16 piece that remained a fixture even as models took to the stage to show off the most eye-catching and revealing looks. And as I watched, I'll be honest: it was a chore to remember to look away from Gaga because she was just that good.
Over the years the theatrics of Gaga's performances have melted away. While some are split on whether or not that makes them a more avid fan of the singer or not, Gaga's ability to captivate and control her audience with her musical prowess has done nothing but skyrocket. And her overwhelming force at the Victoria's Secret Fashion show was only further evidence of that.
And fans took notice of just how magical Gaga's performance was at the start of the show. Flanked by models on all sides, it was Gaga's ability to seamlessly captivate the room and draw audiences in that had fans of the show interested.
Though many have speculated that Gaga's "Million Reasons" is about ex Taylor Kinney (most notably because of lyrics like: ""I've got a hundred million reasons to walk away/ But baby, I just need one good one to stay"), Gaga told E! that "Million Reasons" was inspired by her life just as much as any other album she's put out has been. She said,
I would just say that my music on my album as well as all my albums is inspired by my personal life and this one more than others. I have said it before — I love Taylor so much and he's my best friend.
Gaga continued:
This video is a performance of a song that I wrote of that moment about how I feel, but how I'm sure he's felt sometimes, how you have felt sometimes, how other people feel in relationships, how I see my friends struggle and become just full of rage and anger as they try to figure out how to date during a time when everybody's sort of creating these perfect illusions of themselves on the Internet and nobody really knows what's real and what isn't. It's about all of that.
Though the heart is a song is a much slower version than the upbeat pop tempo we've come to expect from Gaga, it was the perfect opener for her at the Victoria's Secret Fashion Show.