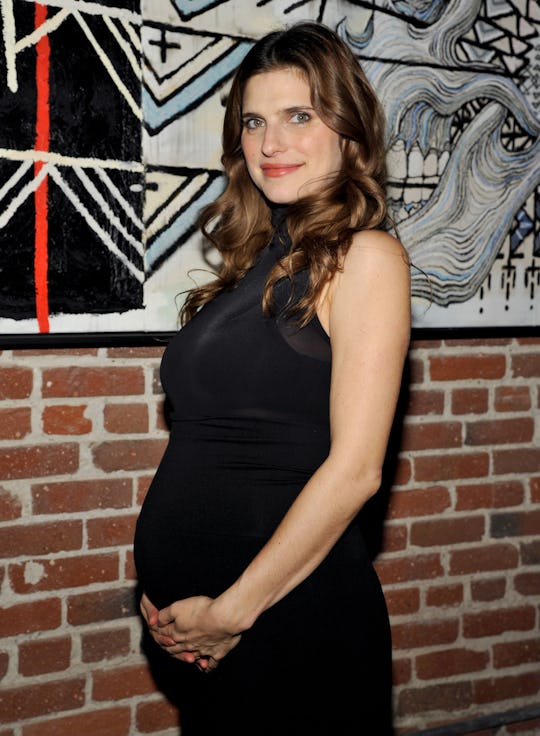 John Sciulli/Getty Images Entertainment/Getty Images
Lake Bell Is Pregnant With Her Second Child, & Fans Are Overjoyed
Happy news all around! On Friday, fans learned that actress Lake Bell is pregnant with her second child. The 37-year-old producer and director, known for her starring role in In a World, revealed her pregnancy bump on Thursday night at an AG + Vanity Fair party in Los Angeles. This will be baby number two for Bell and her husband, tattoo artist Scott Campbell, as the couple are already parents to 2-year-old Nova. Bell was all smiles as she cradled her growing bump on Thursday night.
In a super cute (and perhaps well-planned) coincidence, Bell's first pregnancy was announced similarly: according to Perez Hilton, Bell showed up at a Vanity Fair party in 2014 rocking a similar baby bump (albeit in a burgundy jumpsuit). Six months later, in late October, the How to Make It in America actress gave birth to Nova.
Bell hasn't spoken publicly about her new pregnancy, but in the past, she's spoken positively about the changes motherhood inspired in her. "My happy place is holding my daughter and my husband in the same hug. It really is. I'm getting emotional just thinking about it," she told People last year. "I consider it such a privilege, and I know that I'm lucky. I never want to take it for granted."
No word yet on whether Bell and Campbell are expecting a second baby girl or whether they'll be adding a boy to the mix. Either way, you can bet your bottom dollar that both of Bell's children will grow up with a strong, feminist mother. "I'm excited for my daughter to know me as a working mama," Bell told E! News last year. "I just want my daughter to grow up in an environment where she feels empowered and confident and self-soothing. I am a feminist. I mean, as ladies, we're feminists. It's not a bad word, it's a good word."
Bell and Campbell first met in 2011 on the set of How to Make It in America, where Campbell was a visiting guest on the show. They got engaged in March 2012, on Bell's birthday, and were married in late May 2013. By October 2014, they had welcomed baby Nova into their lives — and now it looks like their family is expanding once again. Congratulations to the happy couple, and here's to hoping they're both ready for just a few more readings of Goodnight, Moon.