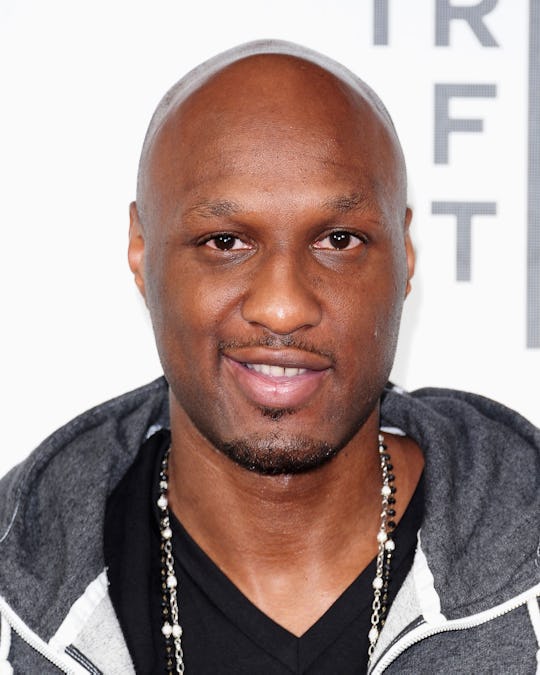 Lamar Odom Released From Hospital & Continues Recovery In Private Rehabilitation Facility
Good news for Lamar Odom. Since the near-fatal stroke he suffered in October, Odom, a former member of the Lakers and Khloe Kardashian's estranged husband, has been recovering in Los Angeles' Cedars-Sinai hospital. On Jan. 6, Odom was released from the hospital, and will continue to recover in a private rehab facility, E! News reported Friday.
Us Weekly reported that Kardashian helped move Odom out of the hospital in a clandestine discharge to avoid the cameras. Although Odom's release is good news for the once two-time NBA champion, the injuries he sustained in October due to a purported drug overdose continue to be serious. In other words, his recovery isn't quite over yet, and it looks like he has more rehabilitation ahead.
Odom was found unconscious in a brothel called the Love Ranch in Nevada on Oct. 13, 2015. A Nevada sheriff's detective, Michael Eisenloffel, said there was evidence of "cocaine and other drugs" in Odom's system at the time of the incident, The Guardian reported. The athlete is believed to have suffered an ischemic stroke, which is when a blood clot prevents oxygen from flowing to the brain.
The always candid Kardashian spoke about the details of Odom's recovery and exactly what it entails, which indicates just how severe his injuries were. Facing the press at the 2016 Television Critics Association Press Tour earlier this week, Kardashian said of Odom:
He is learning how to walk again and learning...cognitive therapy and speech therapy. They think, like, within a year and a half to two years that, mentally, he might be fully recovered. But they don't know.
Odom's ongoing battle with addiction played a significant role in the demise of his relationship with Kardashian, at least as depicted on Keeping Up With The Kardashians. However, pursuing a divorce in 2013, Kardashian has with Odom for much of his recovery. Earlier this week she commended his bravery as he takes on the challenges of recovery.
I'm just there to support and care for him, but he's doing amazing and I'm so proud of the strength that he has to fight this battle that's his battle, and I'm so grateful for everybody's love and concern because I do think it's coming from a good place.
During the Dec. 20, 2015 episode of Keeping Up With the Kardashians episode, Kardashian confided that she believes deep down she and Odom are soulmates, but that doesn't mean they will end up together. "Sometimes we lose our soul mate and that's OK," she said.
The fact that Kardashian remains committed to Odom's recovery is proof of how solid love can be, even if it doesn't have a fairy tale ending you're used to. For now, I'm sure both Kardashian and Odom are doing their best to take each day as it comes.
Image: Michael Loccisano, Steven Lawton, Frederick M. Brown/Getty Images