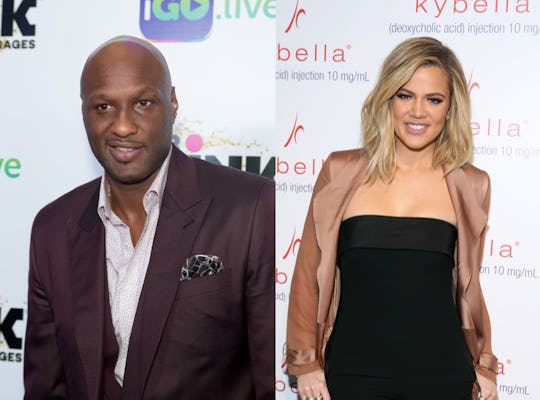 Greg Doherty/Getty Images Entertainment/Getty Images, Cindy Ord/Getty Images Entertainment/Getty Images
Lamar Odom's Response To Khloe Kardashian Giving Birth Is One Fans Are Ready To Hear
Khloé Kardashian and Lamar Odom's relationship may be a thing of the past — but they've always kept tabs on each other in some way since the breakup. The couple split in November 2013, and Kardashian has moved on in a big way now that she's now in a relationship with Cavaliers player Tristan Thompson. The two welcomed their first baby, a girl, in the early morning of April 12, according to TMZ. Odom has unfortunately made headlines thanks to a few scandals, but he has still kept up with Kardashian's life, so it's really no surprise that Lamar Odom's response to Khloe Kardashian giving birth is one everybody's ready to hear.
As of right now, Odom has remained mum on the subject. (Pun totally intended.) But there's a good chance he could speak up eventually. Back when Kardashian's pregnancy was announced, Odom said in an interview with Complex's Everyday Struggle Podcast that he and Kardashian are "cordial from a distance." When specifically talking about her pregnancy with Thompson, Odom said, "I wish her well, still got love for her."
In the wake of the alleged cheating scandal rocking Kardashian's world, one can only hope Odom's continued support for her remains as she becomes a mother to her baby girl. (Romper's requests for comment from both Thompson and Kardashian's team regarding the cheating allegations were not immediately returned.)
In early March, Odom again commented on the news that Kardashian was expecting. "Telling you the truth; it could not happen to a better person. I was happy for her," he told Celebrity Insider, according to BET. "If she could take care of a grown man like me for four years the way she took care of me, I know she will take care of a baby. That will be a spoiled ass baby." And — take this with a grain of salt — Tristan Thompson was reportedly not happy to hear Odom's well wishes. "Tristan Thompson is annoyed Lamar Odom seems to be still hung up on Khloé," a source allegedly told Hollywood Life. "Tristan wishes Lamar would stop talking about Khloé because they have been over for a long time."
The "source" also suggested that Khloé was uncomfortable with Odom's behavior. "Even Khloé feels like it is time for Lamar to move on and leave what they had in the past," the source reportedly told Hollywood Life. "Khloé gets uncomfortable every time Lamar does an interview and comments on Khloé's life."
Odom has also made more critical comments about Kardashian since their divorce. In an episode of Mancave, a new BET late-night talk show, Odom said: "I understand when it's over, it's over. When she was with her second or third NBA ball player, I could see that," according to the Mirror. The comment went pretty viral — so viral, in fact, that Khloé's sister Kim Kardashian responded to it on Twitter with a pretty harsh burn. "Or second or third brothel," Kardashian tweeted, making her feelings on her sister's ex-husband quite clear.
Kim's tweet is in reference to reports that Odom was found unconscious in a Nevada brothel back in 2015, as noted by HuffPost. He allegedly suffered 12 strokes and two heart attacks during the incident, according to Us Weekly, and he checked into rehab afterwards. Odom also made many headlines for his behavior during his marriage to Kardashian. He was reportedly addicted to cocaine for years, and he had multiple affairs with various women, which he opened up about in an interview with Us Weekly. Despite the infidelity, Odom says Kardashian was still there for him when he awoke from the brothel incident, and she helped him recover.
Considering the way he has commented on his ex-wife in the past, it won't be a surprise if Lamar Odom eventually tweets a message of hopeful support after Kardashian gives birth. Here's hoping Khloé Kardashian gets all the support she needs in her new-baby bliss.
Check out Romper's new video series, Bearing The Motherload, where disagreeing parents from different sides of an issue sit down with a mediator and talk about how to support (and not judge) each other's parenting perspectives. New episodes air Mondays on Facebook.