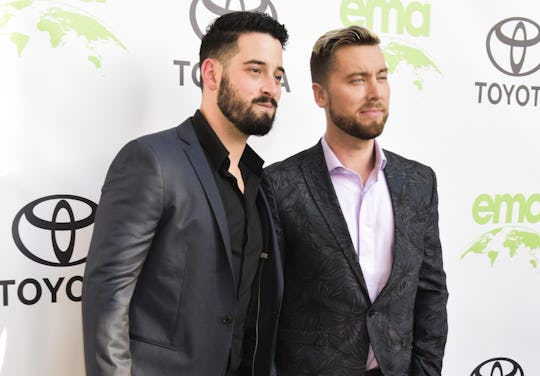 Rodin Eckenroth/Getty Images Entertainment/Getty Images
Yay — Lance Bass & Michael Turchin Have Found Their 'Perfect' Surrogate
There's nothing better in life than when things all finally start to fall into place, whether it's about your career, your relationships, or your family. Which is why it's so heartwarming to find out that Lance Bass has found a surrogate with his husband, Michael Turchin, to start their family and everything is going swimmingly so far. We're sure it'll stay that way.
The former boy band member told People at the iHeartRadio KIIS FM Wango Tango that he and his husband are "very" involved with the surrogate now that they've found her. The 39-year-old said, "I'm very anxious and nervous, but I think it's going to be amazing. We found the most amazing doctor, surrogate, everything is just great. It's happening, and it's happening quick." He didn't confirm whether or not she was already pregnant, but that might be because they haven't decided on the donor yet.
Bass told People in late May, "We find our surrogate and then we find the donor. Once we find the donor and the surrogate, we make our babies and then we [implant] the healthiest embryos that we can make. Nine months later, we have a baby!" You can tell that the couple is stoked to get going. He said in the same interview last month that they have no preference as to sex, as long as they get a baby. Or three. "I would love a boy and a girl! So we will see. We will try for something. Twins work. I'll take triplets," Bass said.
Their excitement is very palpable. He added that he and his husband, whom he married in 2014, plan on making the surrogate a part of their lives well beyond the birth. Bass explained:
We want to know … she lives close to us so we'll be able to see her and be a part of her life and she's going to be a part of our life the rest of our lives. It's going to be great.
It's convenient that no one will have to travel too far or relocate for the process, since that can make things so much more stressful. Then again, the couple has a ton of help in their friends. They don't think that they'll give whatever babies they end up with godparents, just because there are too many amazing people in their orbit to choose from. Though he has thought about it a little bit. Bass added:
There's too many [people]. That's why I don't think we're going to choose godparents. I can give you a list of 10 that would all be godmothers. JoAnna Garcia [Swisher], Jamie-Lynn Sigler and Lisa Vanderpump would definitely be at the top of our list. They're all the godmothers. All of our friends, we have such a great crew of people around … this village that is so great, so everyone's going to be in this kid's life.
Bass is also BFFs with Kris Jenner, who maybe even offered some help in the surrogacy department since Kim had such a great experience, too. Turchin is obviously just as excited as Bass is about starting their family together, though there's a lot to go through when picking a donor. He told People that it's really about the well-being of the fetus. Turchin said:
There are physical characteristics [to choose from], and if you want that it is helpful if you can choose, but health is the most important. It's helpful if you can see that, 'Well, both sides of the grandparents are very healthy, and they have no cancer in the family and they're 6 feet tall,' that is nice.
With the way things are going for the couple, they're bound to find the perfect donor soon.